Cooking healthy meals on a budget can seem daunting, but one food creator shares grocery lists, tips and recipes to make it a little easier.
With $75 in hand for a trip to Trader Joe's and five ready-to-eat recipes, recipe developer and food blogger Jenn Lueke prepared a new social media series to help home cooks whip up a handful of healthy meals for two.
The food content creator of five years shared her complete shopping list, additional best practices for your next trip to the store, plus five healthy recipe ideas with Good Morning America below.
Lueke regularly comes up with original recipes for her treats on her website and posts them on Instagram along with "little hacks" and more from her own personal health journey.
"I like a lot of grocery haul-type videos," she said, citing her trips to retailers familiar to home cooks, including Costco, Trader Joe's, Whole Foods and others, to show the prices of affordable products that are more accessible than niche wellness trends or influencer-endorsed products.
"Trying to show people how to eat healthy on a budget is kind of my main goal on my TikTok," she continued. "It's expensive to eat healthy. I think the reason people are really attracted [my content] they want to eat healthy, but they see very influential people promoting such expensive products — and it's really overwhelming. That's what drove all my healthy grocery shopping and then this series."
She added: "I just love cooking. It's helped me a lot to become healthier — to be able to combine something that's budget-friendly, that you can do with a busy schedule, you can reduce food waste, all of those things check boxes."
For her latest series, Luecke chose to shop at Trader Joe's because she said she finds their options "relatively budget-friendly," especially for "produce and protein."
"You can shop anywhere you know you like, there's nothing brand-specific," she explained.
The best nutrition tips from a recipe expert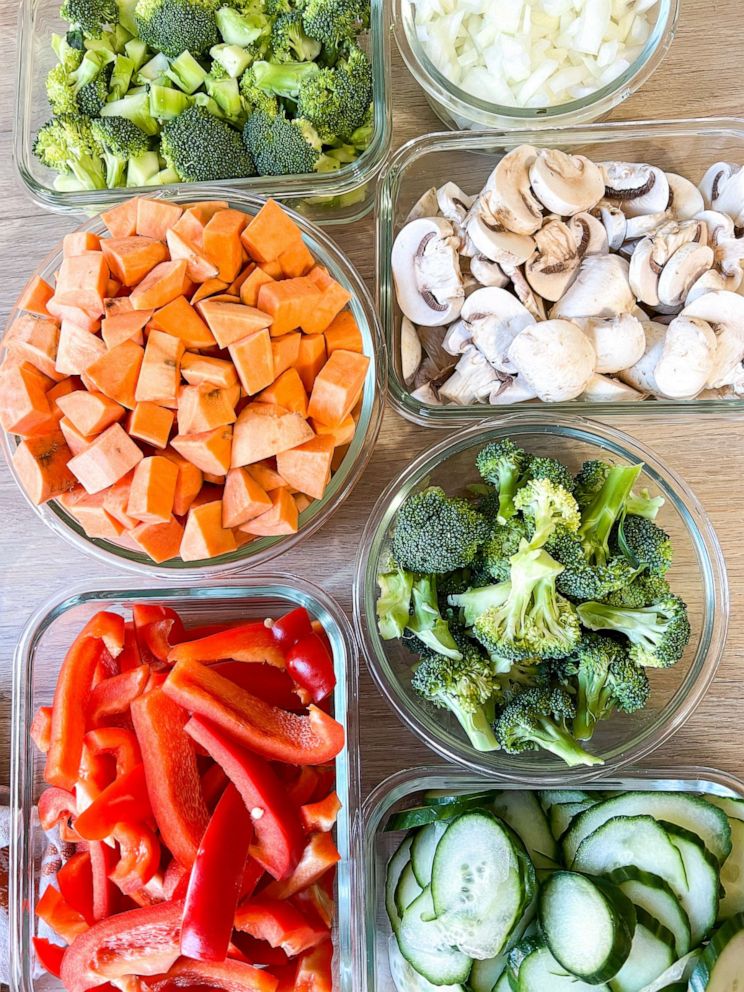 Plan ahead
"I like to pick four or five meals that I'm going to cook for the week and then I make my list from there and try to see what I can use for a lot of things," Luecke suggested.
For example, with produce, Lueke will look to use recipes that "use the same produce every day" or one ingredient in multiple ways.
"If you really wanted to make a unique dinner every night and you didn't plan it, you could easily spend more than $200 at the grocery store," she said. "If you don't plan it and you don't have that overlap of spices and [condiments] and protein, you can easily rack up a huge grocery bill. It's really about planning."
Strong ingredients that go a long way
Although he doesn't use them in this series of recipes, Luecke welcomes eggs as a basic ingredient that can work in many dishes and recipes.
She also said, "I always get chickpeas, coconut milk — it's like a good paleo vegan option. I always get some veggies every week because you can freeze them and then add them to smoothies if you're not using them – that goes for all produce, to be honest, I always chop everything up, but if I'm not using it, I freeze it."
Easy and versatile proteins for weeknight dinners
"I like to do like ground chicken or ground turkey when I can. I like to make chicken legs because they are a little cheaper than chicken breasts," she said. "[Opt] for these more accessible things [instead of] pre-cooked or portioned things that just make it more expensive because if you take a little time to prepare it, you'll save about 50%."
A grocery list for five healthy meals on a $75 budget
ingredients
1 1/2-2 pounds chicken breasts
1 package of Italian chicken sudjuk (5 sausages)
1 kilogram of ground chicken
1 kilogram of frozen shrimp
15-ounce can of chickpeas
32 ounces chicken stock
1 jar creamy tahini
15-ounce can of coconut milk on fire
1 jar tamari, coconut aminos, or soy sauce
1 packet of raw cashews
1 kilo of frozen cauliflower rice
1 large bag of shredded cabbage
1 bag of grated carrots
1 jalapeño pepper
1 large cucumber
4 large sweet potatoes
2 heads of broccoli
2 large heads of yellow onion
1 garlic clove
4-inch piece ginger root (can be substituted with ground ginger)
6-8 green onions (1 bunch)
1 package baby bella mushrooms (about 14 mushrooms)
2 red peppers
Pantry Items: Condiments/Sauces
Olive oil or avocado oil
Sesame oil
Rice vinegar
Honey or maple syrup
Salt & pepper
Garlic powder
Italian seasoning
Smoked paprika
curry powder
Turmeric powder
cumin
Ground ginger
Red pepper flakes
After the shopping is done, Luecke sets about preparing the ingredients for the next five dishes. Here's everything you need—and be sure to check out her respective Instagram posts for full cooking instructions.
Course 1: ginger, sweet potato, and chicken cabbage soup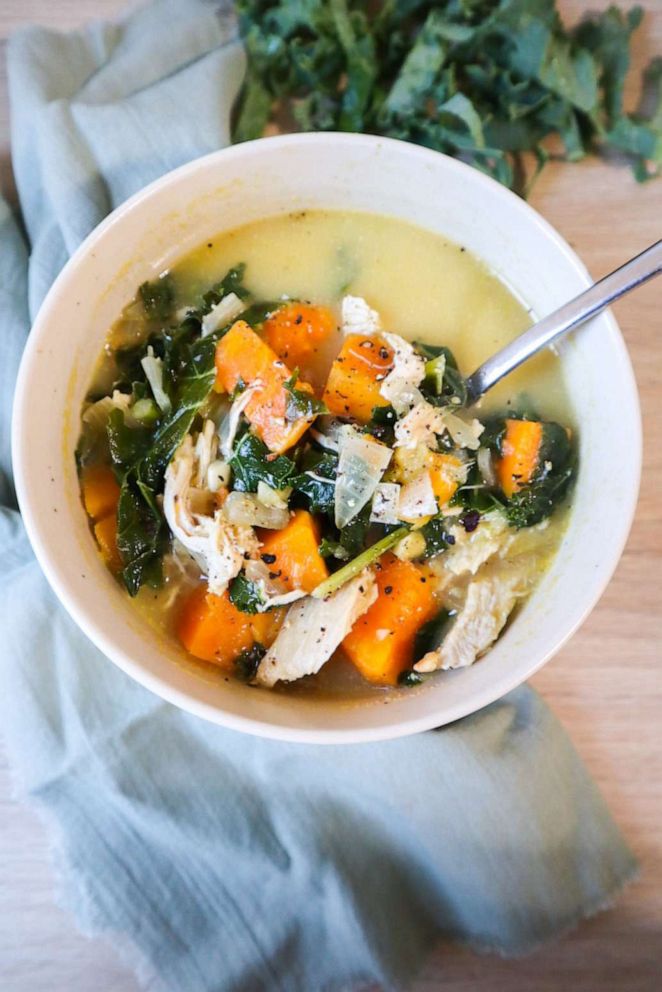 ingredients
2 tablespoons olive oil or avocado oil
1 1/2-2 pounds boneless chicken breast (for vegetarian option, substitute cannellini beans)
1 large yellow onion, minced
4 cloves of garlic, minced
1 + 1/2-inch ginger root, minced
2 large sweet potatoes, diced
1 teaspoon salt (plus more to taste)
1/2 teaspoon black pepper
1 teaspoon of turmeric powder
4 cups chicken broth
3 cups fresh chopped cabbage
1/2 of a 15-ounce can of coconut milk
Course 2: Chicken meatballs with curry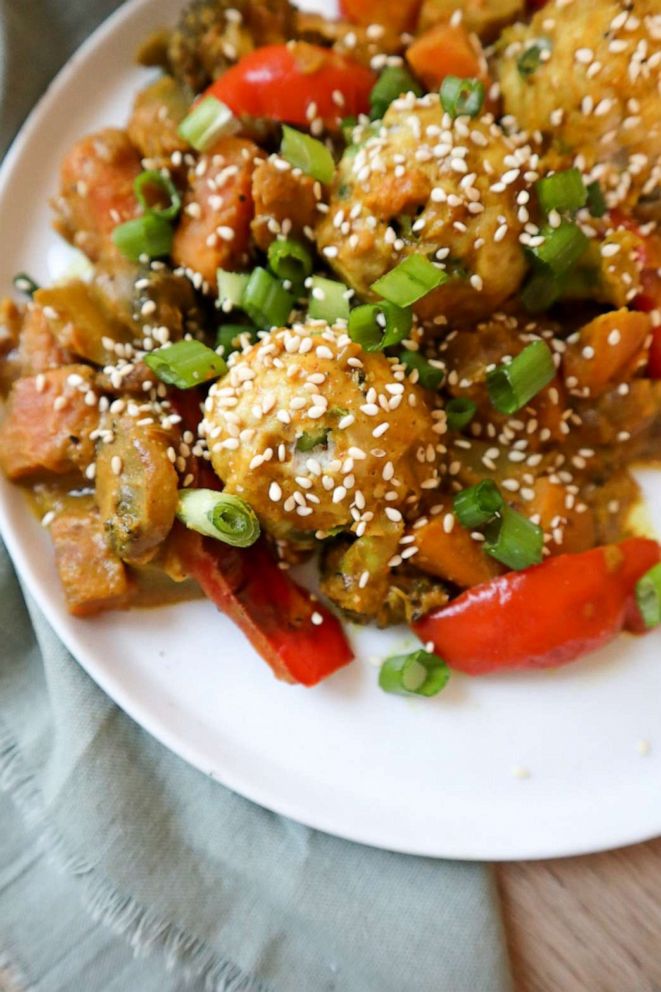 ingredients
2 tablespoons avocado or olive oil
3/4 large yellow onion, chopped
3 cloves of garlic, minced
1 large sweet potato, diced
1 red pepper, chopped
1/2 head of broccoli, chopped
4 baby white mushrooms, sliced
1 teaspoon salt, plus more to taste
1/2 teaspoon black pepper, plus more to taste
2 tablespoons curry powder
1 teaspoon of turmeric
1 teaspoon cumin
3/4 teaspoon smoked paprika
1 tablespoon + 1 tablespoon ground ginger
1/2 of a 15-ounce can of coconut milk
1 kilogram of ground chicken (for a vegetarian version, substitute baked tofu)
1 tablespoon tamari, coconut aminos, or soy sauce
4-6 green onions, chopped
sesame seeds, for garnish (optional)
Course 3: Fried rice with shrimp and cauliflower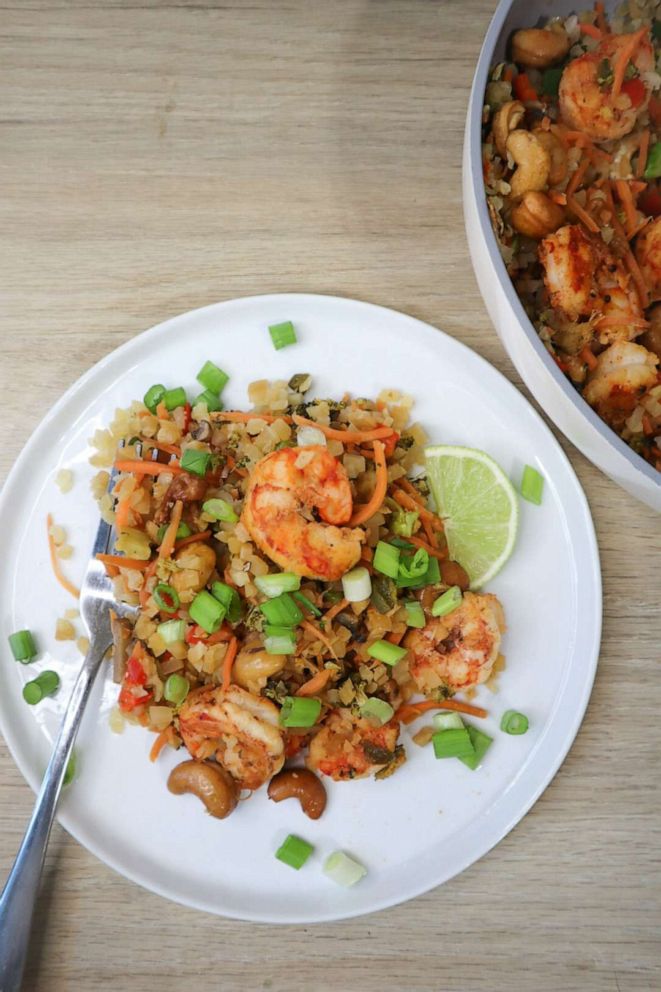 ingredients
12-15 frozen shrimp (for vegetarian version, tofu substitute)
2 tablespoons olive oil or avocado oil
1 teaspoon of salt
1/2 teaspoon black pepper
1 teaspoon of garlic powder
1 teaspoon of smoked paprika
1-inch piece of ginger root, minced
1/2 head of broccoli, chopped
1/2 red pepper, chopped
4 baby white mushrooms, sliced
1 jalapeño pepper, seeded and chopped
2/3 cup grated carrots
2 green onions, chopped
1 kilo of frozen cauliflower rice
1/4 cup tamari, coconut aminos, or soy sauce
3/4 cup raw cashews
lime juice (optional) for serving
Course 4: Chicken Sausage Dinner with vegetable pan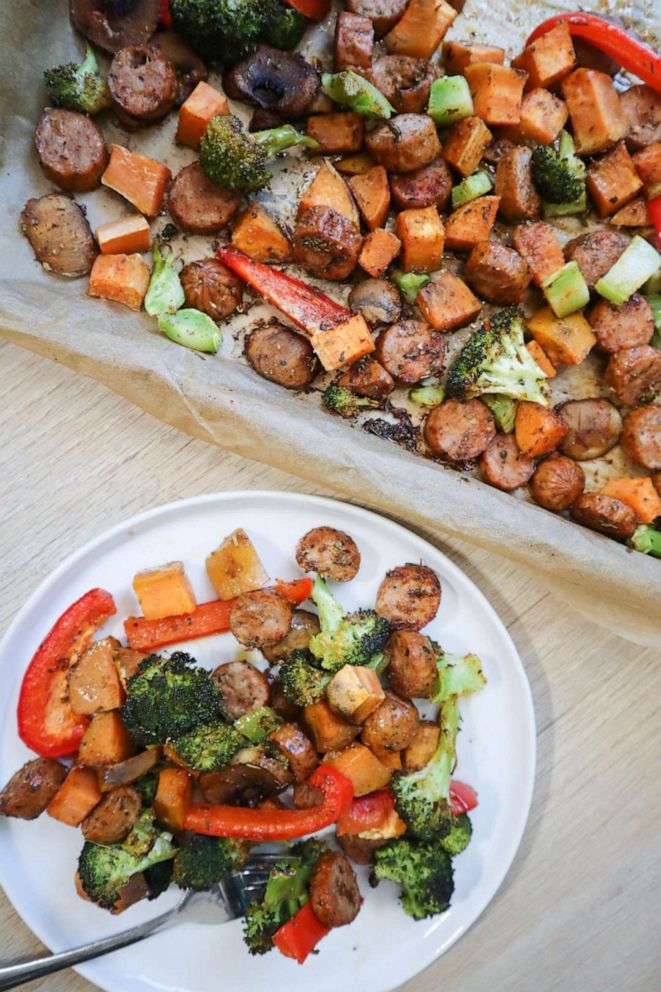 ingredients
1 large sweet potato, diced
1/2 red pepper, chopped
1 head of broccoli, chopped
6 baby white mushrooms, sliced
1 package of Italian chicken sausages (5 sausages) (for a vegetarian option, substitute vegetarian sausage)
2 tablespoons olive oil or avocado oil
1 teaspoon of salt
1/2 teaspoon black pepper
1 tablespoon Italian seasoning
2 tablespoons of smoked paprika
2 tablespoons of garlic powder
Course 5: Crispy Chickpea and Tahini Salad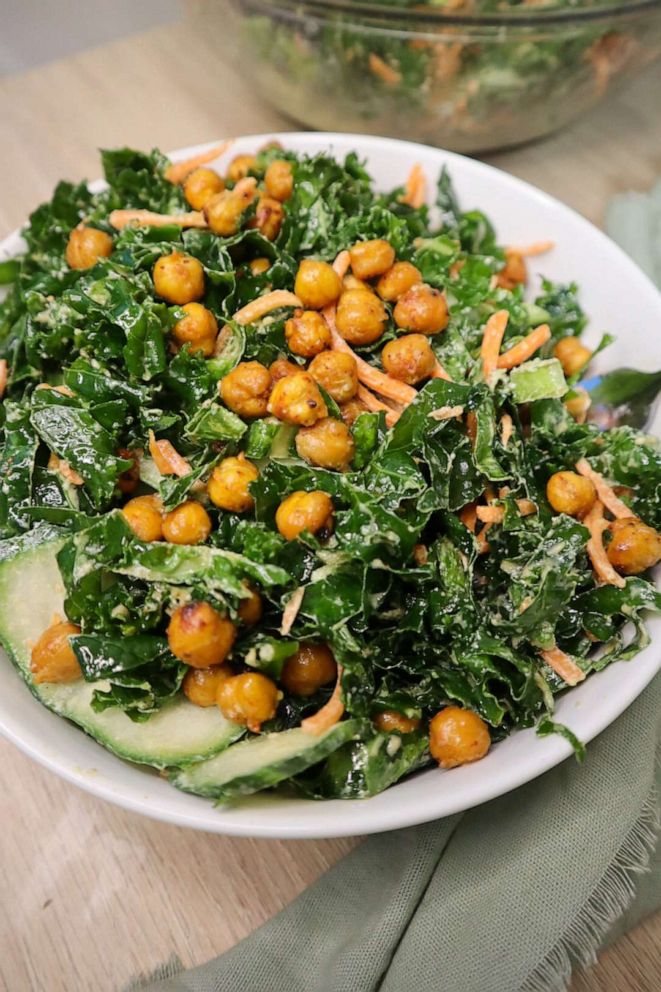 "I don't like salads – and this one is amazing," she said of this Day Five dish. "The dressing is so good. It's really simple and lasts a long time in the fridge. I really like it and it's a plant-based option that a lot of people have been asking about."
She also shared her secret to really crispy chickpeas: "Cook them in a deep fryer."
"Wash the chickpeas, dry them with a paper towel, season them with all the spices, toss them in a little olive oil or avocado oil, and then put them in the fryer," covered with a piece of parchment paper, she suggested, "for 18 to 20 minutes. "
ingredients
1 large cucumber, finely chopped
2/3 cup creamy tahini
3 tablespoons of sesame oil
2 tablespoons tamari, coconut aminos, or soy sauce
1 tablespoon of rice vinegar
2 tablespoons honey or maple syrup
Salt, pepper, garlic powder and red pepper flakes to taste
3 cups fresh chopped cabbage
2 tablespoons + 1 tablespoon olive or avocado oil
2/3 cup grated carrots
15-ounce can chickpeas, rinsed
1 teaspoon of garlic powder
1 teaspoon of smoked paprika