By Gretchen Webster
WESTPORT — Could Westport become the Silicon Valley East?
Yes, says a group of tech entrepreneurs, investors and officials — including First Selectwoman Jennifer Tooker — organized to help the city become "the number one place for tech startups in the Northeast outside of New York and Boston."
That's the view of Stefano Pacifico, one of the founders of Startup Westport, a new technology initiative, as he presented the project to more than 100 people gathered at the Westport Library on Thursday evening. Pacifico, a Westport resident, is CEO of Epistemic AI, a nonprofit "next-generation" search engine for life sciences and biotech.
"Ten or 20 years from now, there's no reason why Westport won't be another Silicon Valley," Matt Gorin, co-founder of Contour Venture Partners and the keynote speaker, told the crowd.
"We have so many ingredients here in Westport," he said, including investors, technology companies and workers, as well as a creative spirit. "The seeds of the ecosystem are beginning to germinate."
Startup Westport was born when Pacifico and Cliff Sirlin, both Westport residents, approached Tooker for city support for a "tech initiative" to bring together local tech companies and others interested in technology. When the founding group grew to five other members, the first networking event was planned to introduce the concept.
When Jay Norris, one of the group's organizers and a speaker at the gathering, took an informal poll of the crowd, he found that about 95 percent were Westport residents, 90 percent were involved in startups and 80 percent were investors.
"We need to come together in a meaningful way," he said.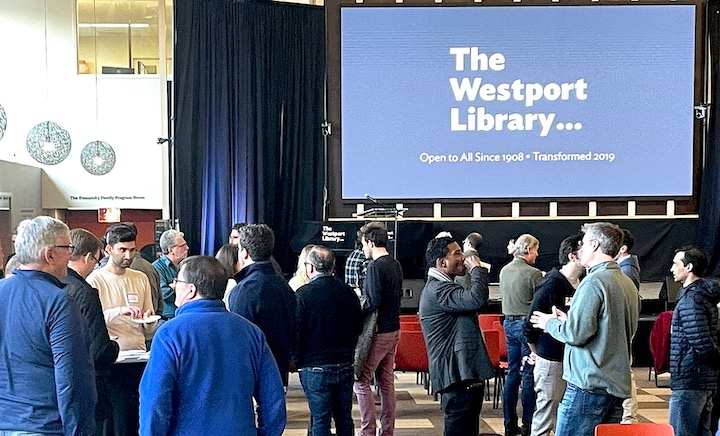 The networking event at the library's Trefz forum attracted people of all ages, mostly men, but some women who moved around the room meeting and chatting with others.
Among those in attendance was Troy Rambo, CEO of Smart Homes Westport, a company that installs residential and commercial security systems. He was introduced to Startup Westport by Police Chief Foti Koskinas and came to the event "to network and brainstorm with people," he said.
Elizabeth Shoup of Westport was there because her daughter is "a data scientist at an energy-related startup … I wanted to learn a little bit about her world," she said.
And Tucker Peters, a junior at Staples High School, came to the networking event "to bounce some ideas off of more experienced people."
Among the initiative's future goals, Tooker said, is to provide internship and education opportunities in technology for Staples students.
"There's a lot of talent in this community," said Peter Propp, organizer of Startup Westport and senior vice president of sales and marketing for Knock Media, a user experience agency with TED Talks and Yale University as clients.
One of the group's goals is "to bring in more companies and more jobs," he said. "There is a wide range of people in Westport. You need people with ideas and people with capital to invest."
Startup Westport is planning a bigger event on June 13 at La Plage Restaurant at the Inn at Longshore. The organization has also published a mailing list on its website.
Freelance writer Gretchen Webster, a Fairfield County journalist and journalism teacher for many years, was editor of the Fairfield Minuteman for 10 years and teaches journalism at Southern Connecticut State University.