BEAUFORT — A comfortable bench with a scenic view is often a desirable find.
Five new art benches are now available to give weary pedestrians a break. They are part of a project initiated by the Cultural District Advisory Board in 2019.
"We are excited to expand this project year after year," said Andrea Hackenberger, the city's events manager and CDAB member. "This unique project tells the story of Beaufort in a way that is both beautiful and functional."
The board conceived the bench project to bring the arts into Beaufort's cultural district and promote the city's history and cultural diversity, said Linda Roper, the city's director of operations and community services.
Bluffton-based artist Mary Ann Browning Ford is a muralist who also paints landscapes for the University of South Carolina Beaufort Center for the Arts' theater program. She contributed to the program with her second bench, titled "Waterfront Park — Then and Now."
"My idea was to show this bench what the Beaufort waterfront looked like before the park was built," Ford said.
For years piers, docks and shallow banks along with dilapidated buildings and abandoned boats characterized the coast. An eight-year project to build the Henry C. Chambers Waterfront Park, opened in 1979, revitalized the area.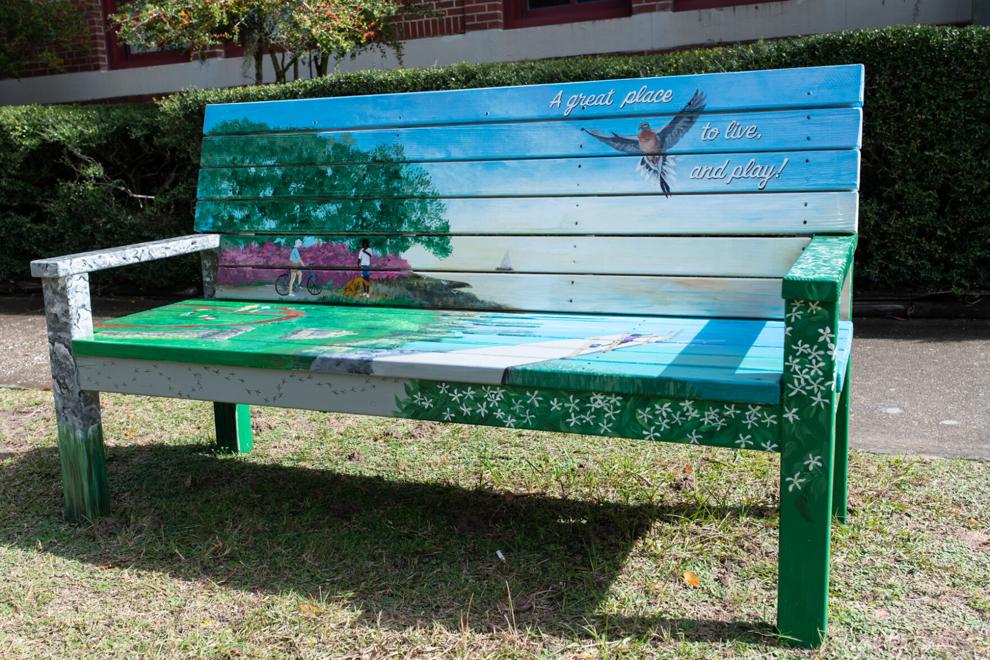 The benches express a range of themes
The benches were built by Habitat for Humanity. Each is sponsored by a local organization, business or other entity.
Sponsors pay $500 for a completed bench and can choose their own artist.
The featured scene must relate to Beaufort history or culture, although the sponsor may work with an artist to develop a specific theme.
"The sponsor hires the artist to tell their story or idea," Roper said.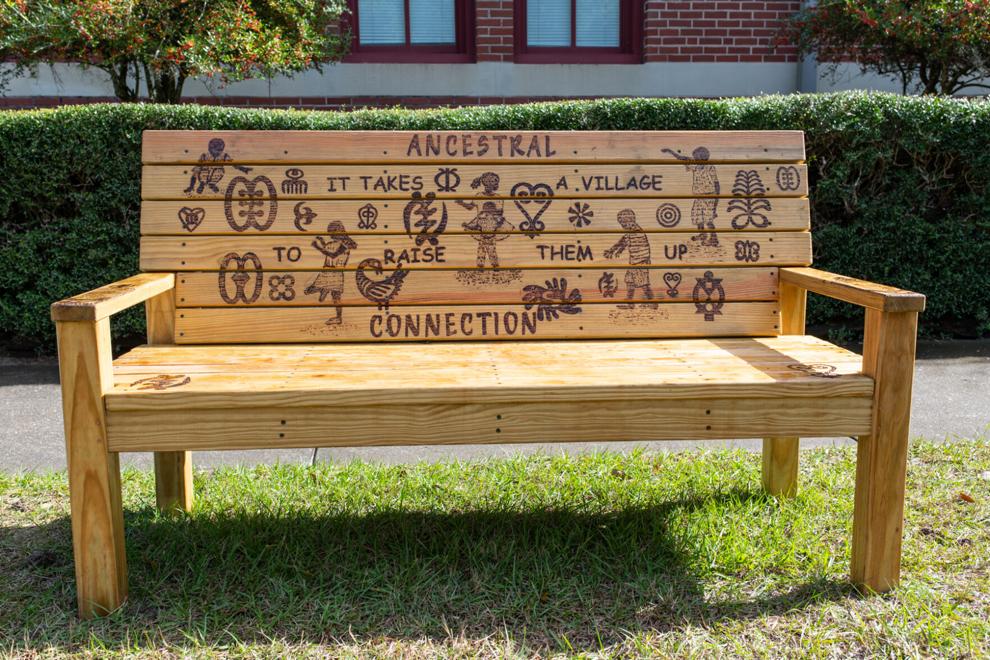 In recent years, benches have included the 16th-century founding of Santa Elena and Beaufort's reconstruction-era history.
Artist Hank Herring, who owns and operates a local gallery and custom frame shop, created an art bench planned for Washington Street Park — which was a personal draw for him.
"I grew up on playgrounds," Herring said. "I love playgrounds."
His bench, titled "Ancestral Links," features playing children and West African adrinkra symbols—each linked to a proverb about village cooperation.
"I chose these symbols because they have a positive meaning," said Herring, who noted that he used a challenging wood-burning technique.
Despite the challenges, Herring said he would jump at the chance to make another bench, 17 of which are now or soon to be installed in locations around Beaufort.
The CDAB, which may add a fourth phase, is working on a map of the existing benches.