Expand your life with the Blisslights Sky Lite Evolve Star Projector, an affordable projector that can display both nebulae and stars.
Here we take a look at the third generation of BlissLights Sky Lite. First there was the Original Sky Lite, then the Sky Lite 2.0 and this, the latest BlissLights Sky Lite Evolve. We'll compare it to previous designs, while also seeing how it stacks up against the best star projectors from other companies.
Specifications
Size: 120 x 120 x 135 mm
Bulb type: LED
Laser: Class 2 laser
Control: Button or app
Rotation: Yes
Sleep timer: Yes
Speaker: No
Projection surface: laser 30 x 30 feet, cloud 15 x 15 feet
Evolve promises to expand on the capabilities of previous models with more color combinations, a new spherical design and an updated app.
You can also control this model using Google Home or Amazon's Alexa, so you don't have to lift a finger to bring space into your favorite room.
BlissLights Evolve Star Projector: Design
Spherical for maximum positioning capabilities
Three different models are available
Movable base
As mentioned above, the Evolve is a complete overhaul of the previous "wheel" design of the BlissLights 2.0 and allows for much more positioning flexibility. The new spherical shape means you can fully rotate the projector to whatever angle you want, just like the Astronaut Starry Sky projector. It has a small form factor, much smaller than previous models, so it doesn't take up too much space on a shelf or bedside table. It is lightweight and easily portable, with a removable stand where the sphere can "sit" to keep it in place.
There are two styles of Evolve available, one includes either a blue or green laser under the LED light, or you can get a "cloud only" option where the laser is replaced with the BlissLights butterfly logo (which is cheaper). Unlike many star projectors that are dark in color – usually black, gray or blue, BlissLights have opted for white plastic finish. We thought the SkyLite 2.0 looked a bit "cheap" — it lacked a high-quality finish and looked a bit like a toy. The Evolve also seems a bit flimsy and we don't think it will hold up to being dropped. If care and respect are shown, this shouldn't be a problem, but if you have small children, this may not be the best choice.
Astronaut Starry Sky Projector: Performance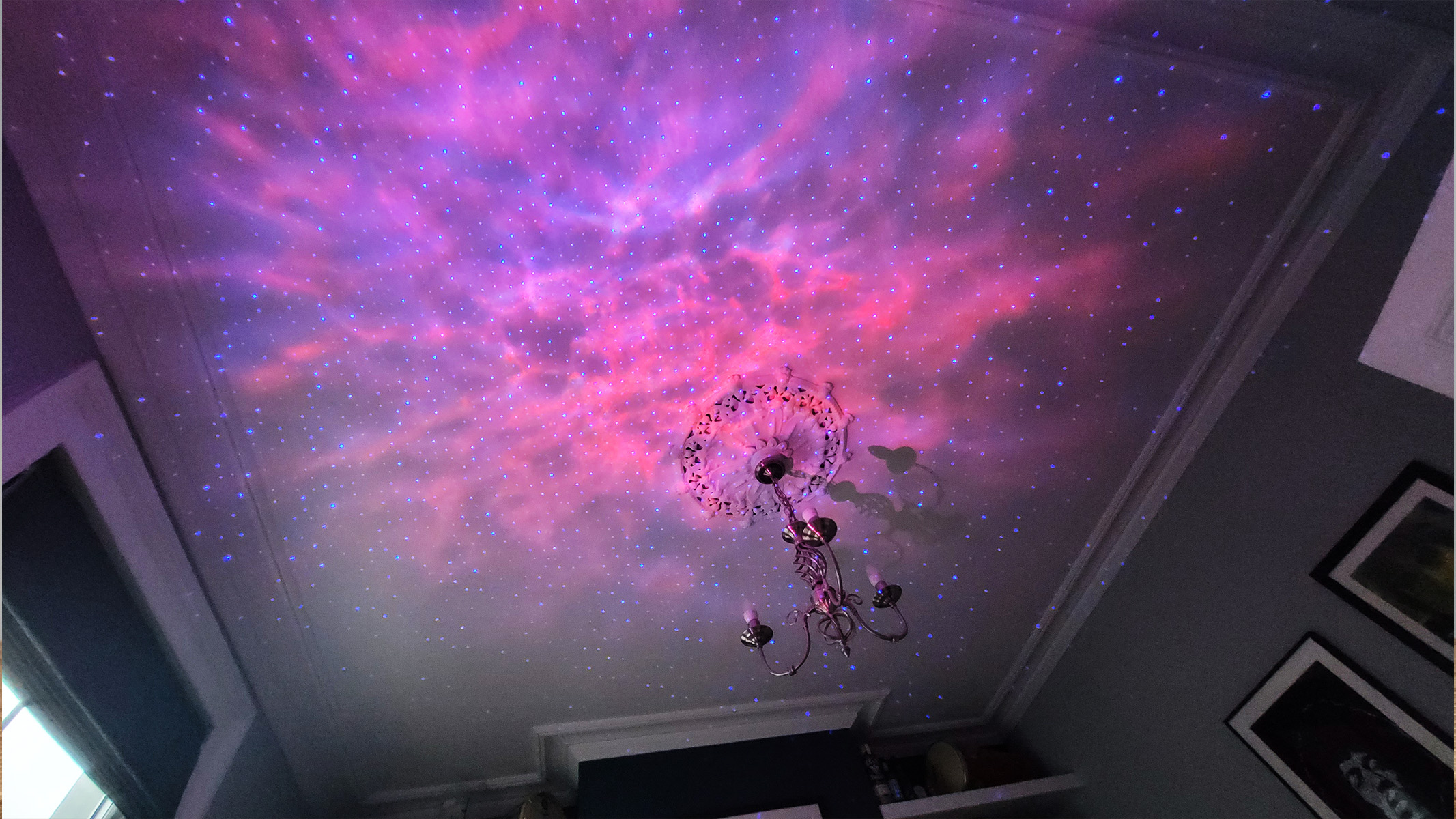 Blue, green or no laser depending on the model purchased
Almost silent operation
Colors and lasers fill the entire room
This is probably an unpopular opinion, but we're not fans of lasers on star projectors in general – we know that's subjective. There will be people who prefer the laser stars to the more realistic looking star projections. While we don't particularly like them, they fill the room (up to 30×30 feet), wider than the Nebula projection, which is 15×15 feet, and can be turned off entirely using the app if you prefer.
The nebula is bright and vivid and you can adjust the intensity, brightness, rotation speed and color using the BlissLights app. One of the most significant differences between Sky Lite 2.0 and Evolve is the all-new color mixing technology, which allows you to create even more color combinations, including gorgeous pastel shades.
The previous model, the Sky Lite 2.0, operated almost silently. We're pleased to say that Evolve is the same; even when we purposefully hold our ear to the device, it's virtually impossible to tell if it's on or off when your eyes are closed.
BlissLights Evolve Star Projector: Functionality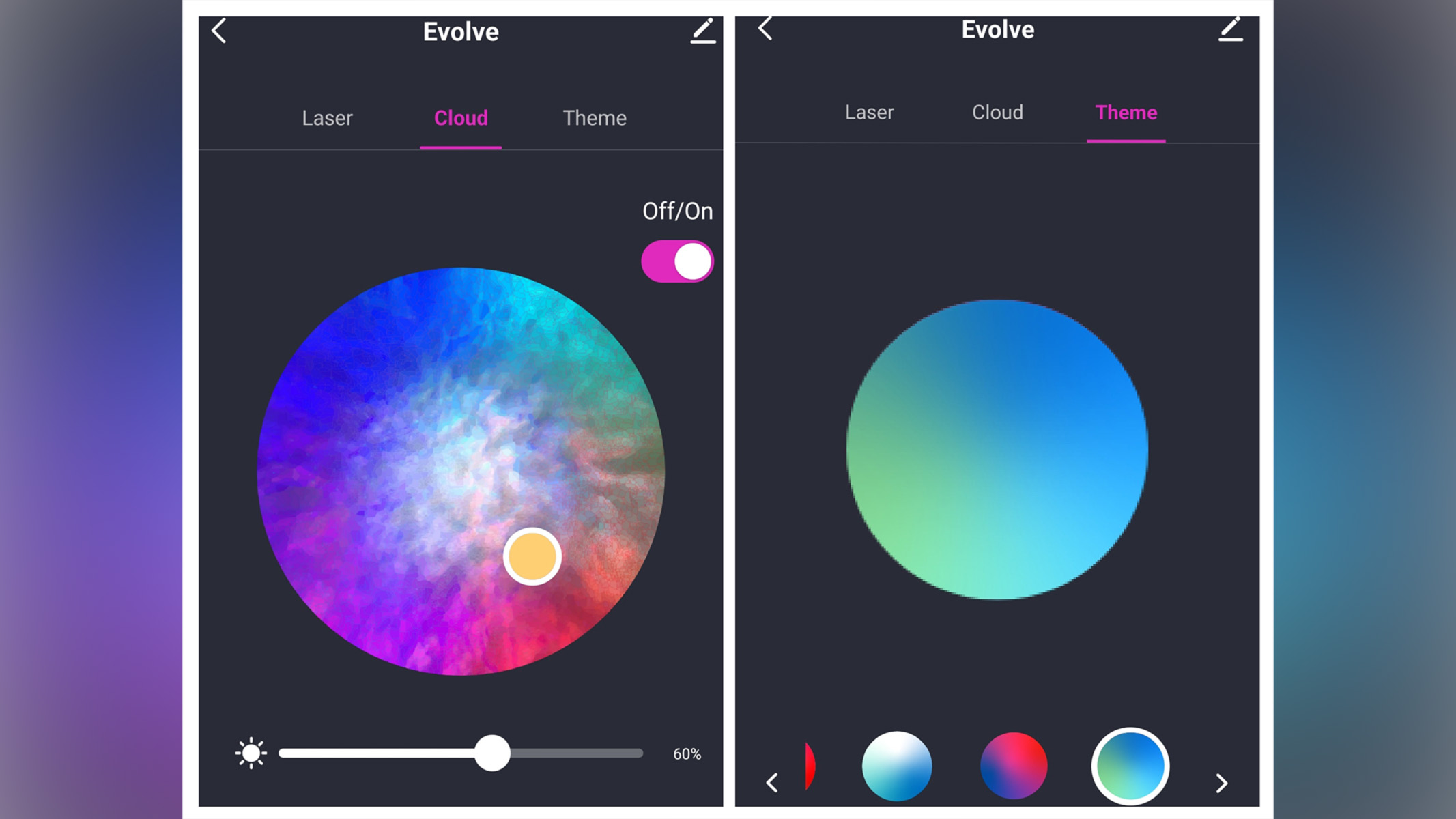 Sleep timer from one minute to 24 hours
The app is responsive
Voice control
The power cable is USB-A to USB-C with one-touch control. This button is required to pair the device with the app and can also be used to cycle through the different nebulae without using the app. If you damage this cable, you'll need to replace it with the same type of cable, as normal USB-A to USB-C won't work. The button on the cable can make it quite heavy and can "pull" the star projector, pulling it out of position if the cable is not supported. Not a deal breaker, just something we noticed while using the projector. That said, we liked the simple one-tap means of changing the colors of the nebula without having to use the app.
The BlissLights app was easy enough to set up. You have to create an account first (just an email address and password) and it took us a few tries to pair the device. Once we figured out that we had to grant access to specific permissions (which our phone had automatically denied initially), everything was seamless. While testing the projector, the app forgot the Evolve Star Projector a few times, but it only took about 30 seconds to add it back.
The app is very responsive and allows you to adjust the brightness and colors of the cloud, the brightness and rotation speed of the lasers and choose a preset theme such as "sky" or "space". You can also create your own scene so you can quickly choose your favorite color combination, brightness and speed settings. There is very little delay between changing a setting and seeing the change on the device.
You can also set the sleep timer using the app—from one minute to 24 hours, which is much more generous than some models that only have two timer options. If you do not select a timer, the device will automatically turn off after six hours of operation. You can also set a schedule, e.g. device to turn on at 6:00 PM each night and off at 8:00 PM, eliminating the need to remember to set the timer.
BlissLights Evolve can be voice-controlled using Google Home or Amazon Alexa, but only to turn it on and off like you would a smart plug or lamp; you can't change any settings using just your voice — like you can with the Encalife Atmosphere Star Projector — which we discovered anyway!
Should I buy the BlissLights Evolve Star Projector?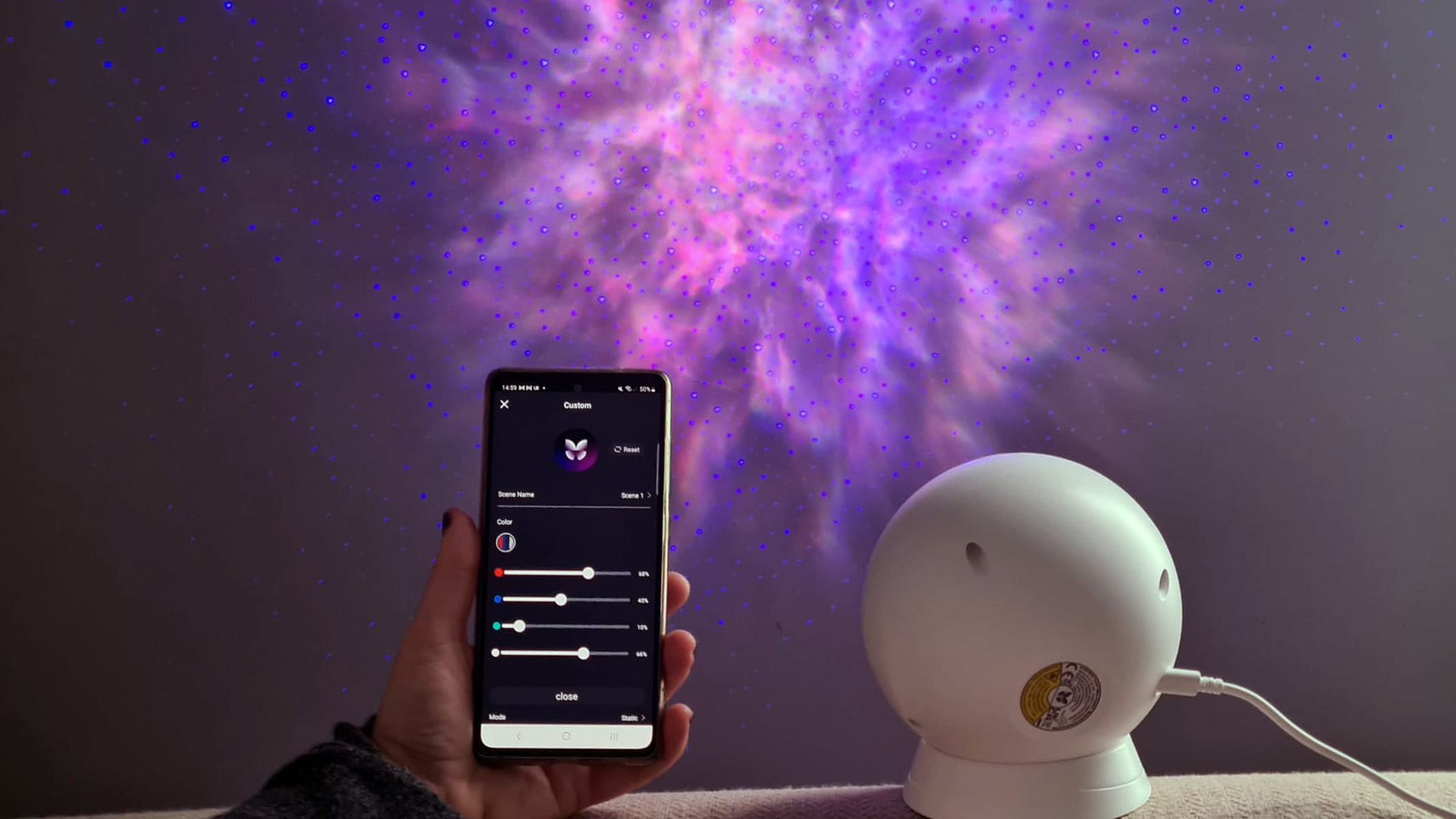 The BlissLights Evolve is a neat little star projector; it's more refined than the previous BlissLights 2.0, thanks in large part to the spherical design that makes positioning easy. The white body complements any home decor and the small form factor means it can easily fit into the tightest of spaces. It does what it's designed to do.
Most functions rely on using the smartphone app, so if you prefer a remote control or body buttons instead, you might want to consider an alternative.
If the BlissLights Evolve Star Projector isn't for you
If you're looking for a scientific star projector, Evolve is not for you. It does not provide any scientific accuracy and can be likened to providing the same soothing effects and atmosphere as a lava lamp from the 1990s.
For scientific or educational learning tools, several options like the Sega Toys Homestar Flux (opens in new tab)the National Geographic Astroplanetarium (opens in new tab) or the Bresser Junior Astro-Planetarium Deluxe (opens in new tab) would be more suitable for your needs.
An alternative projector closer to the Evolve is the Encalife Atmosphere Smart Galaxy Projector (opens in new tab)which is also controlled by an app, but has more voice control capabilities, such as changing the base color.
Finally, the previous BlissLights model, the BlissLights Sky Lite 2.0 (opens in new tab) it's still an excellent option, although the nebula colors are a bit brighter and the color mixing isn't as good. Since it has already been replaced by the Evolve model, it also costs less.