Immersive experiences that blur reality are a growing trend on cruise ships as lines look for more meaningful ways to entertain guests.
Imagine sipping a color-changing drink at an octopus-themed bar while watching fish swim past virtual underwater windows. Or a chef smaller than a salt shaker projected onto a table preparing appetizers.
"What audiences in general are looking for are things that are more meaningful," said Mark Amos, executive vice president of attraction design firm JRA, a subsidiary of RWS Entertainment Group, which has created immersive events on cruise lines including Azamara, Netherlands America Line, MSC Cruises and Virgin Voyages.
Amos describes immersive experiences as fully engaging the guest with an environment, activity or journey that transports them to a different place, real or imagined, and to varying degrees that makes them feel part of the action rather than a passive observer.
"Within that place or space, we deliver a multi-sensory experience that takes them on a journey to suspend belief, if only for a moment, where they are, what they can do, who they are with, and that they can influence the outcome or be affected by the outcome," Amos said.
JRA was responsible for making MSC Seascape's Robotron voyage a creative, immersive experience. The ride involves the senses, he said, such as touch, allowing guests to press buttons to select their music, sights and sounds as Robotron moves them around on the upper deck of the ship. Guests can also enjoy the sights and sounds of the ride while at the nearby bar. A take-home photo or video from Robotron allows riders to relive it later.
"So when you're down on the pool deck talking about the near-flip experience you had on that ride, you have the ability to show it, share it, and relive what you had on that ride," Amos said.
Immersive experiences can generate revenue. For example, Robotron costs $10 to ride. But many of them are free. On the line's newest ship, World Europa, JRA debuts "Living Exhibition: Earth."
The exhibition begins with an artist painting a picture whose subjects are represented in real life by a set that inflates and by dancers and puppets that meet on the ship where the artist is painting – such as a 15-foot elephant controlled by people inside him.
Dinner and show
Quite a few cruise brands have chosen to include immersive experiences in their dining programs. Disney Cruise Line's newest ship, Disney Wish, offers an array of immersive experiences, including the Avengers: Quantum Encounter dinner.
Guests play an interactive role in an Avengers mission with Ant-Man and The Wasp, who use highly unstable technology to shrink and zoom in on targets. A few blunders and the arrival of a villain require guests to use a "Quantum Core" device on their table to help save the two heroes.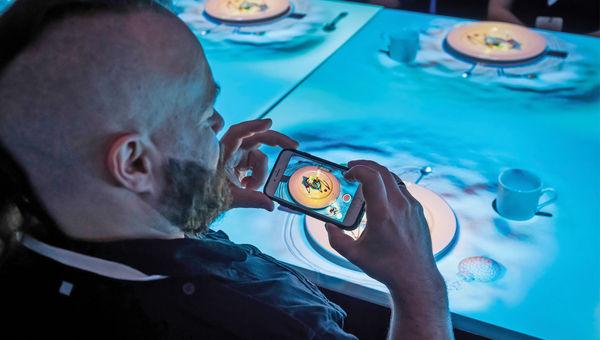 Le Petit Chef's immersive dining experience brings a white table to life with a little chef who tells his story as he prepares the food. Photo: Celebrity Cruises
On Celebrity Cruises, a white table becomes the setting for a tiny, animated chef who cooks and tells stories during Le Petit Chef. Celebrity worked with Skullmapping's 3D animators to create the experience, where the chef chats with guests while preparing meals right at their seat. When the course is finished, the chef prompts the waiters to replace the animated dish with the real one as part of a four-course dinner.
Dondra Ritzenthaler, Celebrity's longtime senior vice president of sales for the Americas, described experiences like these as "superb," ​​but said they're the kind of innovation guests are looking for. Le Petit Chef costs $55 with the option of wine pairing for an additional fee.
"I was literally in the restaurant and when it was over, people were waving goodbye to this little animated character at the table," she said. "They're telling us with their pockets that these are the things they want and value."
Princess Cruises combines taste with technology in "360: The Ultimate Experience," available exclusively and included for guests in Discovery Princess and Enchanted Princess suites. The event takes guests through a seven-course meal while immersing them in the sights, sounds and people of the places where the ingredients are gathered. The LED projections allow them to interact with the culture, such as smashing a projected plate during a meal in Greece, echoing a Greek custom.
Creating the atmosphere
Other experiences are atmospheric. Carnival Cruise Line is planning several immersive zones, named for the different areas of its Excel-class ships, on Carnival Jubilee, due out in December.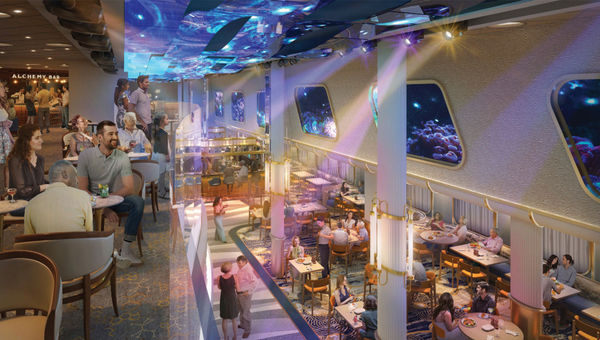 A rendering of Carnival Jubilee's Currents area showcases LED windows and ceiling creating an underwater atmosphere. Photo: Carnival Cruise Line
The two-deck Currents area will have LED "windows" depicting fish swimming past the ship and an undulating LED ceiling with other sea creatures and scenes that change from day to night. Completing the experience is a bar with eight octopus tentacles wrapped around it, which serves drinks that change color in recognition of the octopus' ability to do the same.
Cruise line entertainment has "catapulted" away from predictable experiences, said Craig Laurie, chief creative officer of RWS Entertainment Group.
"I feel like our customers come to us thinking how can we give them the unexpected, obviously, in a very nice way?" he said. "They're excited to take risks, to give audiences something that will inspire and excite them."