Fans flocked to KeyBank Center for Ryan Miller Night on Jan. 19 — an unfamiliar site the previous two seasons for the Buffalo Sabres.
Two days later, the Sabers had their fifth sellout of the season for a Children's Day matinee contest before the team left town for a four-game road trip.
That was a big change from last season, when empty seats were almost as common as fans at Sabers home games.
Attendance is up about 46% this season, with the team averaging 14,633 fans in announced attendance – a testament to the team's improved record and position as the highest-scoring team in the National Hockey League.
But the Sabers still have a long way to go. The team, which had regular sellouts for nearly a decade, starting with the 2006-07 President's Trophy-winning squad led by Chris Drury and Daniel Briere that reached the Eastern Conference Finals, still collects more than 20% fewer fans than in those peak years.
The Sabers hit an all-time low in attendance during the 2021-22 campaign, averaging just 9,997 per game. And that figure was boosted by the Heritage Classic being considered a home game. More than 26,000 fans attended this game at Tim Hortons Field in Hamilton, Ontario.
This came after the 2020-21 season was prompted by Covid restrictions on fans attending matches.
In those two seasons, KeyBank Center was sold out just twice — and in April 2022, when fans flocked to the arena for Rick Jeanneret Night, celebrating the retirement of the team's longtime broadcaster, and then again for his final regular-season call. Sabers home season finale.
"They're a lot better to watch this season than they've been," said Rick Fenton, who attended the Miller Night game with fellow Sabers fan Beverly Evendon. "We had a good time at the games."
Although Buffalo will miss the playoffs for the 12th straight year if the postseason begins today, fans have more reason to be optimistic with encouraging signs for the Sabers' future. Buffalo is one point out of the final Eastern Conference playoff spot as of Tuesday and plays Wednesday at home against Carolina in its final game before the All-Star break.
But it even took a while for fans to come back this season, with some taking a wait-and-see approach. Attendance improved each month as the season progressed and averaged over 16,000 for the seven January home games. Four of the team's five shutouts have come in their last eight home games — dating back to December 29.
"We just jumped in," said Eric Koch, who decided before this season to buy two season tickets and split them with three other friends. "They should be making a playoff push – they're on the cusp of it."
And while more fans have been in the seats at KeyBank Center so far this season, the Sabers still rank at or near the bottom of the league in several key attendance numbers.
According to hockey-reference.com, in 25 of the team's 41 home games, the Sabers have averaged 14,633 fans in their 19,070-capacity arena.
That average capacity of 76.7% ranks last among NHL teams. Their average attendance per game is 29th among the 32 teams in the league as of Tuesday. Only the Winnipeg Jets (14,117), San Jose Sharks (13,844) and Arizona Coyotes, who play their home games in a 4,600-capacity college arena, rank lower.
Sabers players said they realize they have to win back the fans and it doesn't happen overnight.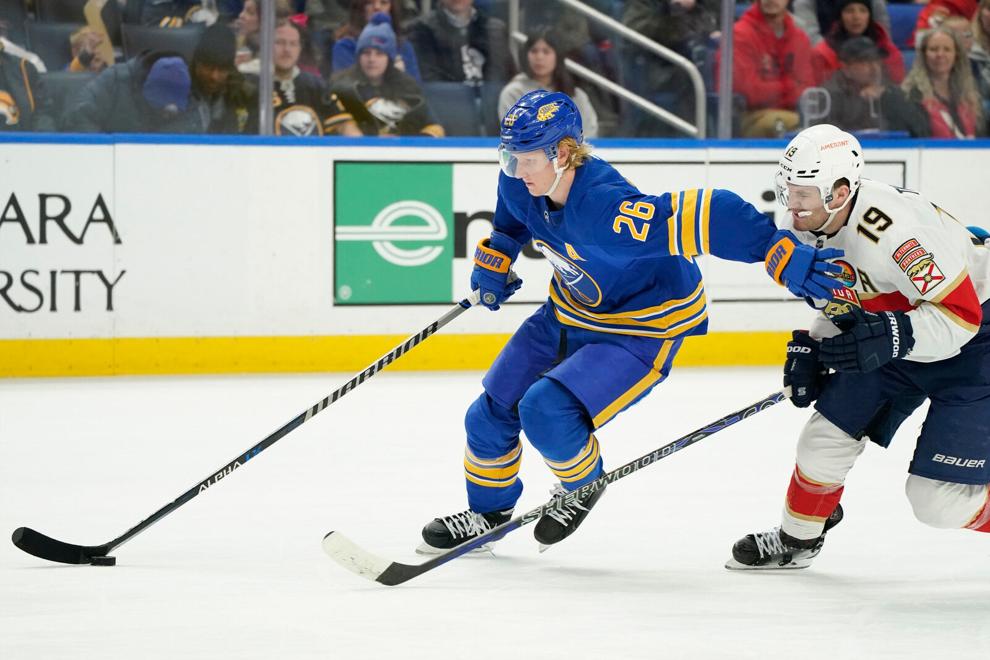 "We had to prove to the fans that we're a competitive team," Sabers star guard Rasmus Dahlin said after one of those sellouts, Buffalo's 6-5 overtime win over the Minnesota Wild on Jan. 7.
"We love playing in this arena," he added. "When the fans are loud, we just want to win more."
Dahlin wrote an open letter to Sabers fans on the team's website Tuesday, saying that playing in front of a packed house in important games "are the nights we've been dreaming of for the past two years." His letter ends with a link to buy tickets and "Be There Wednesday".
"It's hard to describe what it feels like when KeyBank Center is full," Dahlin wrote. "It gives me chills to think about the roar of the crowd every time we have a chance to score. Or a big hit. Or a successful penalty kick. Honestly, the whole evening feels like a power play.
The Sabres' attendance numbers this season are a big improvement over what the team did in the 2021-22 season.
The Sabers finished 31st in total attendance — ahead of only the Ottawa Senators — playing to an average half-empty house. The team's season ticket base, which was once about 16,000 during the 2016-17 season, dropped to about 6,500 last year, the Sabers revealed. The Sabers averaged at least 18,000 fans per game every season from 2006-07 through 2017-18.
Estimates are that the team had about a 30 percent jump in season ticket sales this season, putting that number around 9,000 — an estimate driven by preseason announced attendance.
The Sabers declined to provide specific numbers for current sales because the organization does not provide that information, a team spokesman said.
Flexibility at checkout helps
The Sabers have added staff to their ticketing and sales team for the general public and holders of premium seats, such as the club level and suites. The team has also provided more options and flexibility for fans who want to attend games regularly.
In addition to getting a full-season plan of 41 regular season games and three preseason contests, fans can pick up 22-game half-season plans, 11-game quarter-season plans and custom plans that start with just five games.
"We're really moving in the right direction and we've got a lot of work to do," Frank Batres-Landaeta, team vice president of ticketing and service, told The News in September.
Fanton said he came close to getting season tickets last season but didn't eat. This season, however, he decided to take one of the mini packs.
"The big issue is getting to some of the games during the week," he said.
Evenden said he likes the flexibility of the Sabres' ticket packages, including the availability of ones that include weekend games.
"They're a fun, young team," she said. "Now that they're offering a package just for weekend games, it's a nice option and something we can do next season."
Sabers fan Becky McCulsky congratulated the team for celebrating Miller, the Sabres' all-time scoring leader, along with other themed and throwback nights that highlight the franchise's earlier days as well as the 1990s and early 2000s. them. Events like this help bring fans past and present together, she said.
"It's a nice way to merge generations of people who watched the Sabers from the 1970s, '80s and '90s with the younger generation and really bring the community together," she said.
Three of the Sabers' sellouts were for Saturday games, against the Anaheim Ducks on Jan. 21, Minnesota on Jan. 7 and the division rival Boston Bruins on Nov. 12, and the others were Thursday games, against the New York Islanders on Miller Night and the Detroit Red Wings on Dec. 29, which was after the Christmas weekend blizzard and 16 days since the team's last home game.
"When you have 19,000 people, you can go home disappointed, if you think it doesn't affect you as a team and as individuals, that's a big load," Sabers head coach Don Granato said after the Jan. 7 game.
"It's more than just the crowd, you can feel the passion in the building," he added. "Nights like this are opportunities to create memories for hockey fans and hockey people."
Buffalo also had two near-sellouts, the Wednesday before Thanksgiving, Nov. 23, against the St. Louis Blues (17,302) and a Friday night game, Dec. 9, against the Pittsburgh Penguins (17,205), whose fans travel well for road games in nearby Buffalo.
The next-highest attendance games so far this season were against the New Jersey Devils, with 16,727 on the Friday after Thanksgiving; Nov. 10 against the Vegas Golden Knights, with 15,757 on Thursday against former Saber Jack Eichel; and Oct. 13, against Ottawa, with 15,364 for the team's Thursday home game. The previous year's kickoff drew only about 7,000 fans.
The lowest attended game this season was on October 31st Monday night against Detroit when 9,673 seats were filled. Monday-Wednesday games have been significantly less attended by Sabers fans this season.
The weather hasn't helped the Sabers this season either. The December 23rd Friday night game before Christmas against NHL powerhouse Tampa Bay Lightning was sure to be a well-attended game with expats and students home for the holidays, but a pre-Christmas blizzard moved that game to March 4th.
As a result, Saturday's game against the Philadelphia Flyers was rescheduled for Monday, January 9. It was one of the least attended games of the season.