The Cincinnati Bengals take on the Baltimore Ravens in a Week 11 matchup on Thursday Night Football. Both NFL teams are coming off Week 10 losses, each trying to rebound for a much-needed win. Here's how and where to watch this Thursday Night Football game.
---
How and when to watch Cincinnati Bengals vs. Baltimore Ravens
The Week 11 Thursday Night Football game between the Cincinnati Bengals vs. the Baltimore Ravens will be played on Thursday, November 16 at M&T Bank Stadium in Baltimore, Maryland. Kickoff is at 8:15 PM ET (5:15 PM PT).
The game will stream exclusively on Amazon Prime. The game will be broadcast on local television affiliates in Cincinnati, Ohio and Baltimore, Maryland.
---
Waiting for the game to start? Check out Amazon's new Thursday Night Football store
If you've been waiting for today's game to start, now is a great time to check out Amazon's new Thursday Night Football store. Every week, Amazon updates the store with the best fan gear and gift ideas for fans of the two teams playing. This is a great opportunity to pick up some Christmas gifts for the NFL fans in your life.
This week, the Amazon TNF store is packed to the brim with the best Cincinnati Bengals fan gear and the best Baltimore Ravens fan gear available for purchase from the retailer, including jerseys, team flags, t-shirts, hoodies and others. Tap the button below to be taken directly to Thursday Night Football's Amazon store page.
---
Are tickets available for Cincinnati Bengals vs. Baltimore Ravens?
Although kickoff is less than 24 hours away, there are still tickets available for the game on Ticketmaster and other resale sites. Tap the button below to win tickets to see the game at M&T Bank Stadium in person.
---
Can you watch Cincinnati Bengals vs. Baltimore Ravens without Amazon Prime?
From 2022, Amazon became the exclusive carrier of Thursday Night Football (TNF). This season, Prime enhances its coverage with a compelling Thursday Night Football schedule featuring all 14 playoff teams from the 2022-2023 NFL season. Pregame coverage begins at 7:00 p.m. ET (4:00 p.m. PT) before kickoff at 8:15 p.m. ET.
In addition to TNF, this season Black Friday the Nov. 24 Week 12 game — Miami Dolphins vs. New York Jets — will also air exclusively on Amazon Prime.
Amazon Prime is $1.99 for the first week. After one week, Prime is $14.99 per month ($139 per year) for all Thursday Night Football games, a first in NFL history Black Friday game, two-day shipping, and Prime Day deals and Amazon Prime Day deals.
---
Watch Cincinnati Bengals vs. Baltimore Ravens on your phone with NFL+
If you want to watch this game on your phone — and all the amazing football that awaits you this season — take a look NFL+. The premium streaming service, starting at $40 per year (or $7 per month), offers access to the NFL Network. And yes, that includes games that are broadcast out of market. To further enhance your NFL experience, you can upgrade to NFL+ Premium with NFL RedZone and watch up to eight NFL games simultaneously. A seven-day free trial is available.
Top Features of NFL+:
You get access to all NFL preseason games, including those that are not in the market.
NFL+ lets you watch prime time streaming of local and regular season games on your phone or tablet, but not on your TV.
It includes the NFL Network (and NFL RedZone with NFL+ Premium), so it's a good option for those who want to stream football on the go.
---
Watch local NFL football live with a digital HDTV antenna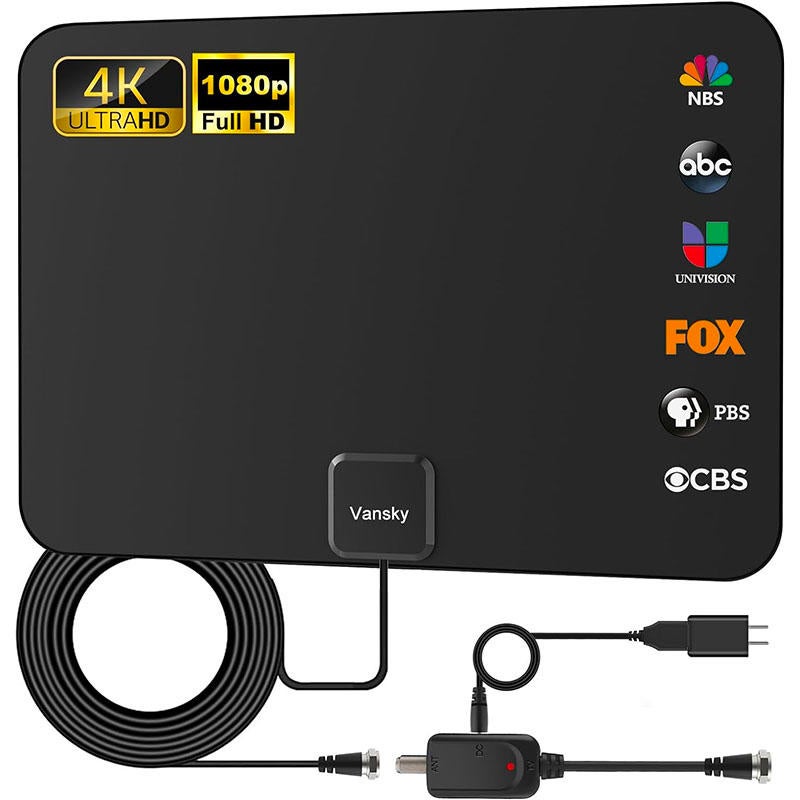 If you're cutting the cord to your cable company, you're not alone; you are actually lucky. You can still watch the NFL on TV with an affordable in-room antenna that pulls in local over-the-air HDYC channels like CBS, NBC, ABC, Fox, PBS, Univision, and more. Here's the most important thing: there is no monthly fee.
Anyone living in a partially blocked area (those near mountains or first floor apartments), a antenna for digital TV it may not pick up a good signal — or any signal at all. But for many homes, a digital TV antenna provides a seriously inexpensive way to watch college football without paying a cable company. Indoor TV antennas can also provide some much-needed TV backup if a storm knocks out your cable (or your cable company gets into a network dispute).
This amplified indoor HDTV antenna claims a range of 250 miles and comes with a 16.5-foot coaxial cable. It is rated 4.0 stars by Amazon reviewers. Normally $33, currently on sale for $22 after coupon before Black Friday.
---
2023 NFL Season 11 Schedule

The 2023 NFL Season 11 schedule is below. The game you see broadcast locally will depend on your geographic area.
Thursday, November 16
Cincinnati Bengals vs. Baltimore Ravens, 8:15 p.m. (Premium Video)
Sunday, November 19
Dallas Cowboys vs. Carolina Panthers, 1 p.m. (Fox)
Pittsburgh Steelers vs. Cleveland Browns, 1 p.m. (CBS)
Chicago Bears vs. Detroit Lions, 1 p.m. (Fox)
Los Angeles Chargers vs. Green Bay Packers, 1 p.m. (Fox)
Arizona Cardinals vs. Houston Texans, 1 p.m. (CBS)
Tennessee Titans vs. Jacksonville Jaguars, 1 p.m. (CBS)
Las Vegas Raiders vs. Miami Dolphins, 1 p.m. (CBS)
NY Giants vs. Washington Commanders, 1 p.m. (Fox)
Tampa Bay Buccaneers vs. San Francisco 49ers, 4:05 p.m. (Fox)
New York Jets vs. Buffalo Bills, 4:25 p.m. (CBS)
Seattle Seahawks vs. LA Rams, 4:25 p.m. (CBS)
Minnesota Vikings vs. Denver Broncos, 8:20 p.m. (NBC)
Monday, November 20
Philadelphia Eagles vs. Kansas City Chiefs, 8:15 p.m. (ABC, ESPN)
---
Plots we're following this season
Important dates to remember:
The 2023 NFL regular season runs from today until January 7, 2024.
The playoffs are scheduled for January 13 through January 28, 2004.
Super Bowl LVIII is scheduled for February 11, 2024 in Las Vegas.
Hello, my name is Joshua Dobbs. If you follow the Cleveland Browns, you'll recall that the team's training camp backup quarterback was 28-year-old journeyman QB Joshua Dobbs. The Browns traded Dobbs to the Arizona Cardinals in August, where he was the team's starter while franchise QB Kyler Murray recovered from injury. On October 31, Dobbs was traded to the Minnesota Vikings. Six days later, he was on the field after the Vikings starter left the game with a concussion. Dobbs led the Vikings to a victory over the Atlanta Falcons despite not practicing or learning the names of his teammates. Dobbs became the first quarterback in NFL history with consecutive three touchdown games for different teams and continues to start for the Vikings.
Kelces meet Swifts: Now that Taylor Swift and Kansas City Chiefs tight end Travis Kelce have taken their very public romance international via Taylor's South American leg of her Eras tour, it's time for Taylor's parents to meet Travis' parents. The Kelces and Swifts meeting is said to take place on Monday when the Chiefs play the Philadelphia Eagles (Travis' brother Jason Kelce plays for the Eagles.) The NFL's own version of "Meet The Fockers" is exactly the kind of storyline that The NFL loves. This rematch of Super Bowl LVII could get Super Bowl-like ratings thanks to potential Taylor sightings and potential relatives as well.
Good morning, Baltimore. Many hours of NFL sportscasts in recent years have been devoted to arguing the talent (or lack thereof) of Baltimore Ravens quarterback Lamar Jackson. Lamar has always been a dynamic pocket scrambler and this season was no different with Jackson posting 440 rushing yards, the best for a QB in the NFL. Midway through the 2023 NFL season, Lamar is poised to have the best season of his career. The Ravens are 7-3 coming into Week 11 and MVP chants have followed Lamar (again) every step of the way. But some sports pundits aren't convinced, ESPN's "First Take" host Shannon Sharp is one of them. Sharpe, the former Denver Broncos tight end, said on his show this week that he has "no confidence" in Lamar, while noting that Jackson has as many turnovers this season as he has touchdowns. Oh
---
CBS Essentials related content