EXCEPTIONAL: Law enforcement in Texas arrested an Iranian illegal immigrant at the southern border last week whose name and date of birth were initially noted as a match on the FBI's terror watch list, but whom a DHS official told Fox News eventually determined not to match the database after further verification.
The Texas Department of Public Safety (DPS) arrested Alireza Heydari, 29, last week following a traffic stop involving a human smuggler at the border in Val Verde County, Texas, as part of Operation Lone Star.
Heydari was smuggled into the vehicle along with four other illegal immigrants. It was in the trunk. Fox is told Heydari was turned over to Border Patrol custody and was later found to match the FBI's Terrorist Screening Database (TSDB).
Fox contacted the Department of Homeland Security (DHS), Immigration and Customs Enforcement (ICE) and Customs and Border Protection (CBP) on Thursday and repeatedly since. It wasn't until Tuesday that DHS referred Fox to the FBI, which declined to comment. The FBI's website says it does not confirm the status of anyone on the watch list.
However, on Wednesday, a DHS official told Fox News that upon further review, Homeland Security officials determined that Heidari did not comply with the TSDB.
BORDER PATROL ARRESTS 17 PEOPLE ON FBI TERROR WATCH LIST AT SOUTHERN BORDER IN DECEMBER
The FBI's TSDB contains information on the identities of those "reasonably suspected" of involvement in terrorism or related activities. In December alone, there were 17 people stopped by the Border Police whose names matched the list. This brings the total number of people arrested at the southern border between ports of entry to 38 since October.
There were 98 terror watch list arrests in FY22, 15 in FY21, and only three in FY20 at the southern border between ports of entry.
Meanwhile, at the northern and southern border ports of entry, CBP's Office of Field Operations has encountered 125 people in the TSDB so far this fiscal year. There were 380 detentions in FY2022, 157 in FY21 and 196 in FY20.
NEARLY 300,000 ILLEGAL IMMIGRANTS PASSED THROUGH BORDER AGENTS IN LESS THAN FOUR MONTHS: SOURCES
The increase in arrests between ports of entry has raised concerns that amid a historic surge in illegal immigration across the southern border, illegal criminals and terrorists may be eluding overstretched Border Patrol agents.
So far this fiscal year, nearly 300,000 illegal immigrants have escaped the Border Patrol, with an average of 2,450 a day over the past 120 days, sources told Fox News last week.
In fiscal year 2022, there were nearly 600,000 escapes. There were 389,155 escapes at the border in fiscal year 2021, and fiscal year 2023 is on track to easily surpass those numbers. Agents told Fox News last week that there are more than 1.2 million escapes during the Biden administration.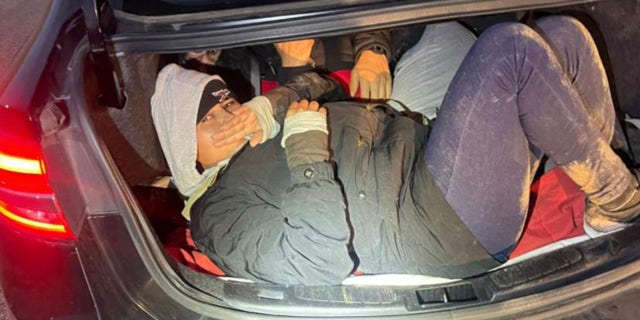 CLICK HERE TO GET THE FOX NEWS APP
Tom Homan, the former acting director of Immigration and Customs Enforcement (ICE), told Fox News on Saturday that the number should "scare the hell out of every American" and said there's a reason these migrants don't turn themselves in to the Border Patrol. to be processed and released to the US
"Why aren't they taking advantage of the program? Because they don't want to be fingerprinted, and there's a reason for that."
Fox News' Griff Jenkins contributed to this report.