New Martin Art Gallery Director Sees Muhlenberg as a Place Where "The Arts Are Really Valued"
In her first months in the role, Jessica Ambler prioritized student and faculty participation in the gallery's exhibitions and in the displays she helps organize on campus.
By: Megan Kita
Thursday, March 16, 2023 09:42 AM


Martin Art Gallery Director Jessica Ambler speaks to attendees at the opening reception for "The Woman Who Says No," an exhibit of lithographs by Françoise Gillot. Photos by Ash Miller
Martin Art Gallery Director Jessica Ambler, who joined the college in December, is excited to return to higher education. Although she has taught at several institutions, including Rocky Mountain College of Art + Design and the Fashion Institute of Technology, she most recently worked as a curator for Loupe, Inc., a streaming art platform.
"I missed being in [higher ed] setting, particularly working with students and also with faculty, the exchange of ideas that takes place and the ability to use art as a teaching tool rather than seeing it as an asset," says Ambler, who has Ph.D. in Art History from the University of California, Santa Barbara. "I love that [Muhlenberg is] a small liberal arts campus where the arts are truly valued.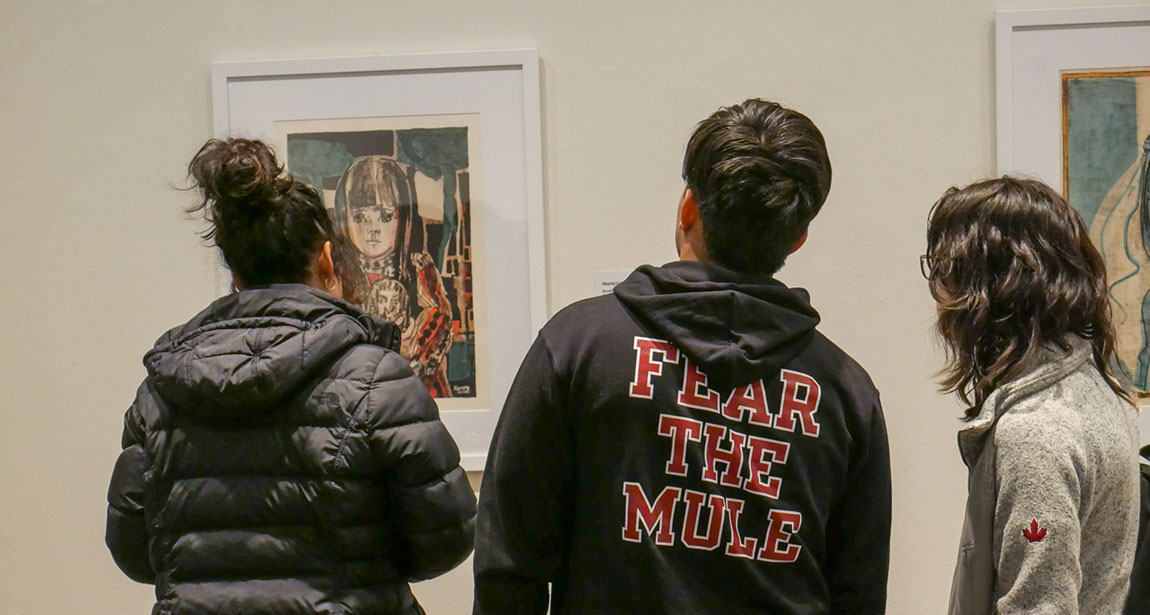 Ambler is preparing to launch the gallery's second exhibition of the semester. A split minda collection of works by senior lecturer in painting and sculpture Kevin Tuttle, will run from Monday 20 March to Friday 21 April. This follows an exhibition of Françoise Gillot lithographs from the College's permanent collection, which closed on 3 March.
Despite her title, Ambler's powers extend far beyond the Martin Art Gallery. She has contacted the Office of Alumni Affairs about exhibiting alumni art in the Seegers Union and is collaborating with three student gallery assistants as they prepare an exhibit of student art that will open in the new Fahy Commons before the end of the semester. These same gallery assistants have helped Ambler manage the college's collection of more than 3,000 works scattered across campus.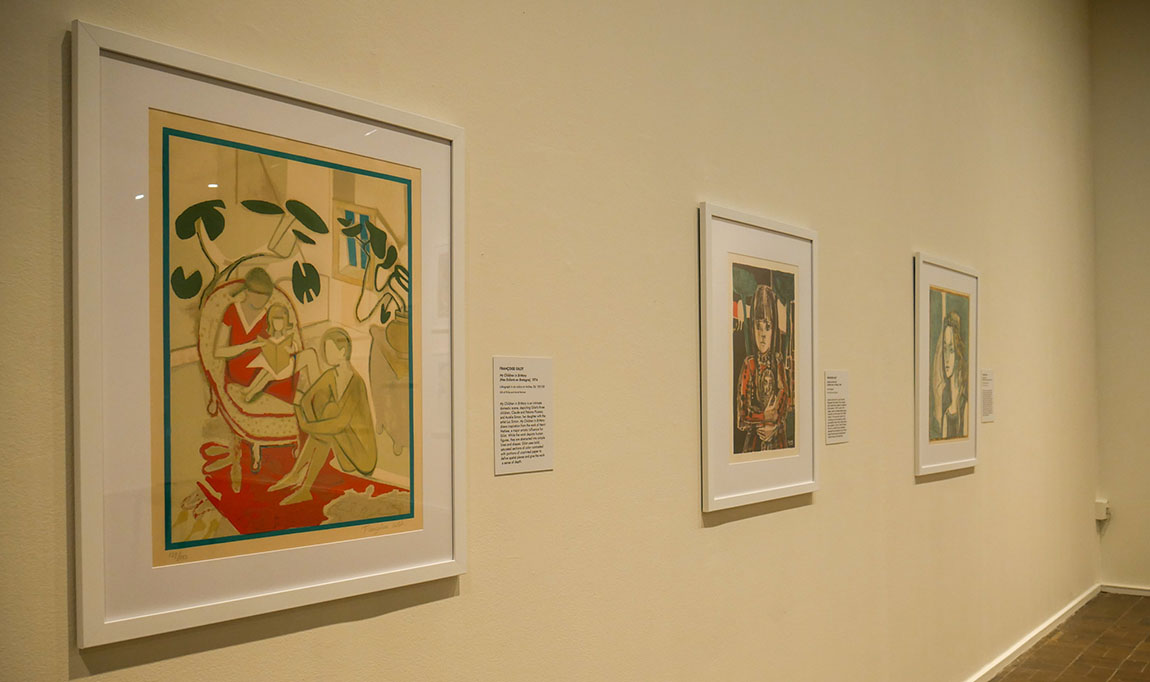 "My gallery assistants were going from building to building, documenting what was where, what was moved, what state our work was in," says Ambler. "They learn how to catalog art and do art research, while we do really well with the collection. The more you look, the more you see. I'd like to do a better job of highlighting that by updating the wall labels and moving things around so people notice."
As Ambler continues to get to know the college and campus collection and the Lehigh Valley's art communities, she has also begun a lecture series that will bring some of her campus contacts to talk to students about their careers. The first event focused on exhibition design; future subjects may include art therapy and assessment.
"I really appreciate the fact that this is a [college] art gallery and we serve not only the wider community but also the students," she says. "I'll have one speaker a semester … for all the students who talk to me saying, 'How did you get a job doing this?'"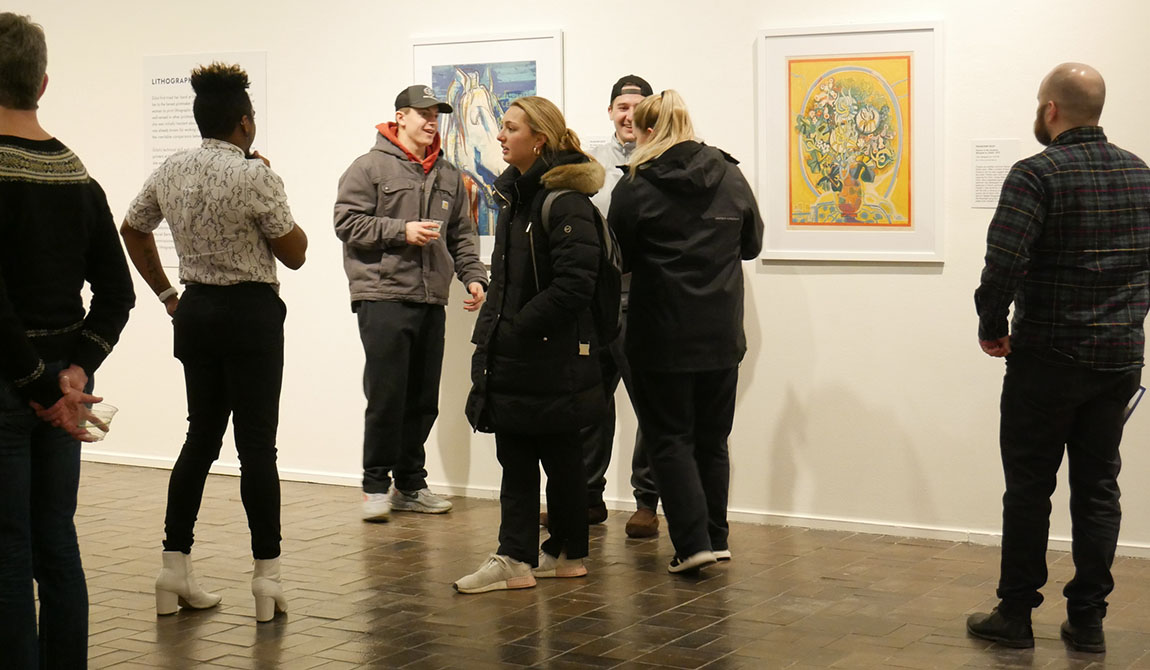 Upcoming Martin Art Gallery Events:
A split mind
A collection of works by Senior Lecturer in Painting and Sculpture Kevin Tuttle
March 20 – April 21, Martin Art Gallery
Opening Reception: Wednesday, March 22, 5:00 PM to 7:00 PM
Gallery Talk: Wednesday, March 29, 5 to 6 p.m
Immediate expression
A collection of works by contemporary artist AJ Rojas
April 3 – August 18, Baker Center for the Arts Galleria
Artist Meet & Greet: Monday, April 3, 1 to 3 p.m
All events are free and open to the public.