NetEase Cloud Music, China's second-largest music streaming provider, reported a 22.5% year-over-year jump in revenue in the third quarter, which the company attributed to continued growth in its paying user base.
Revenue in the three months ended September 30 reached RMB 2.36 billion (approximately $331 million), up from RMB 1.92 billion in the previous period and RMB 2.19 billion in the second quarter of the year.
The figures were revealed by Cloud Music majority shareholder NetEase last week (17 November) when it reported its overall (unaudited) third quarter results. Cloud Music accounted for 9.7% of the parent company's total revenue of RMB 24.43 billion in the quarter.
Internet giant NetEase is the publicly traded majority shareholder in Cloud Music. When the latter company listed on the Hong Kong Stock Exchange in December 2021, the company reported that NetEase held a 47.51% stake after making a US$200 million cornerstone investment in its spin-off music subsidiary.
Sony Music Entertainment also supported the listing by investing $100 million to acquire 3,801,000 shares in Cloud Village (see below).
---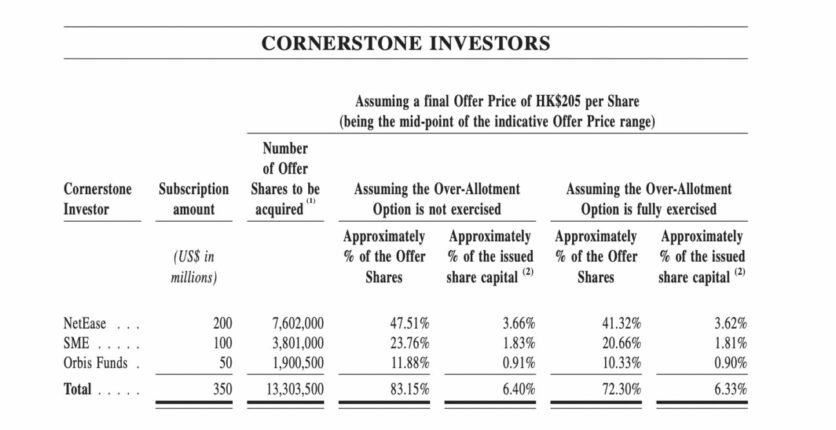 ---
NetEase Chief Financial Officer Charles Yang told analysts on an earnings call that Cloud Music revenue grew as the unit continued to expand its paying user base and optimize its pricing strategy.
During the quarter, Cloud Music further enhanced its "music-centric community and content ecosystem" and continued to accelerate its efforts to monetize and "gain significant operating leverage," according to the executive.
"Our ratio of paying users was also stable quarter-on-quarter."
Yang revealed on the call that Cloud Music's MAU remains stable, while the DAU to MAU ratio remains well above 30%.
"Our ratio of paying users was also stable quarter over quarter," Yang added.
Actual figures for the number of Cloud Music subscribers by the end of the quarter were not released.
---
Because these are only preliminary results reported by Cloud Music's majority shareholder NetEase, publicly traded Cloud Music will report its own third-quarter results, including the number of paying users.
Until we get an update on those numbers, it's worth looking back at the second quarter to see how many users NetEase had in the three months to the end of June:
In the second quarter, Cloud Music added 872,000 paying music users, ending the period with 37.6 million monthly paying online music users. By comparison, rival Tencent Music Entertainment (TME), which operates multiple streaming services including QQ Music, Kugou Music and Kuwo Music, added 2.5 million new paying users, ending the first half with 82.7 million paying subscribers.
Most recently, TME last week reported that it added another 2.6 million paying music users in the third quarter, bringing its paying subscribers to 85.3 million.
---
Cloud Music's gross profit margin in the third quarter rose to 14.2% from 13% in the second quarter and from 2.2% in the third quarter of 2021. Its gross profit grew nearly eightfold to RMB 333.6 million in the third quarter from RMB 42.8 million a year earlier.
NetEase attributed the improvement to "increased net revenue from its social entertainment services as well as continuously improved cost control measures."
During the earnings call, Yang noted that Cloud Music is witnessing a gradual recovery in advertising, while the unit's net loss further narrowed both year-over-year and quarter-over-quarter.
In the first half, Cloud Music's attributable net loss narrowed significantly to RMB 270.8 million from RMB 3.81 billion a year ago, due to strong sales and a 39% drop in general and administrative expenses, an increase in government subsidies and value added tax subsidies value , as well as net foreign exchange gains, among others.
Yang further revealed during the earnings call that Cloud Music continues to expand and diversify its copyright library.
Increasing regulatory scrutiny in China has forced companies such as Cloud Music and TME to abandon exclusive deals with global labels in China. Tighter oversight from Beijing also forced Cloud Music to pause its initial public offering in Hong Kong last year, but it was able to revive its plan, launching its HK$3.28 billion ($420 million) IPO in December 2021
"NetEase Cloud Music is in active discussions with label companies to provide the best content for our music lovers."

Charles Yang, NetEase
Since then, "NetEase Cloud Music has been in active discussions with label companies to provide the best content for our music lovers. So far, we have been able to bring back most of the major label content, including that from Modern Sky, Emperor Entertainment Group, China Record Group, Feng Hua Qiu Shi, Yuehua Entertainment, Linfair Records, SM Entertainment, TF Entertainment, YG Entertainment and KAO!INC," Yang said during the company's earnings call.
In addition to getting more licensed music on its music streaming platform, Cloud Music has also increased its focus on nurturing aspiring musicians. The company now serves more than 570,000 artists, Yang revealed.
To attract new users and retain its existing paying subscribers, Cloud Music rolled out new offerings in the third quarter, including the launch of a "starred comment section" to display high-quality user comments, as well as a "Fan Space" to connect and encouraging interaction between artists and their fans.
Cloud Music has also started offering Dolby Atmos on its platform, allowing users to get more immersive ways to listen to music, Yang said.
Shares of Cloud Music in Hong Kong closed up 11% on Tuesday amid a broad sell-off in Hong Kong stocks that was sparked by renewed fears of a new lockdown in China.Music business worldwide