As Jackie Lyle stood over her stove, she picked up one of the small aluminum pans and began to explain the story behind why pancakes are a staple for her family.
Several of Lyle's family members immigrated to Louisiana from Paris in the early 1900s, including her grandmother, Jackie Richard, who was an infant at the time. Upon arrival, the family put down roots in the Rhine.
They brought many French customs with them, and the Lyles family managed to keep many of these traditions alive for over a century – making pancakes every year on February 2 is notable.
In the United States, the day is known as Groundhog Day, but in France it is "La Chandeleur" – which translates into English as Candlemas, marking that 40 days after the birth of Christ, Mary and Joseph brought their son to the temple for the rites of purification and consecration as prescribed by the Torah.
While Americans stand out in the cold waiting for a groundhog to appear, the French crepe holiday dates back to the fifth century and is a mix of traditions – including the Catholic holiday and the harvest festival. The day is considered very superstitious in France and is believed to serve as a ritual to attract good luck throughout the year, similar to the southern tradition of eating black-eyed peas and cabbage on New Year's Day.
Growing up, every Groundhog Day, Lyle's family celebrated the holiday at her grandmother's home in Lafayette. While her grandmother was alive, she led the holiday celebration.
Everyone was present as they gathered around the kitchen for a collective pancake making experience. Although Lyle started making pancakes at age 8, surrounded by her family, it wasn't until she left for college that she celebrated the event for the first time alone.
"It's the strongest tradition in my family," Lyle said.
It is celebrated without hesitation. Lyle would give up black-eyed peas before going pancake-free on Groundhog Day.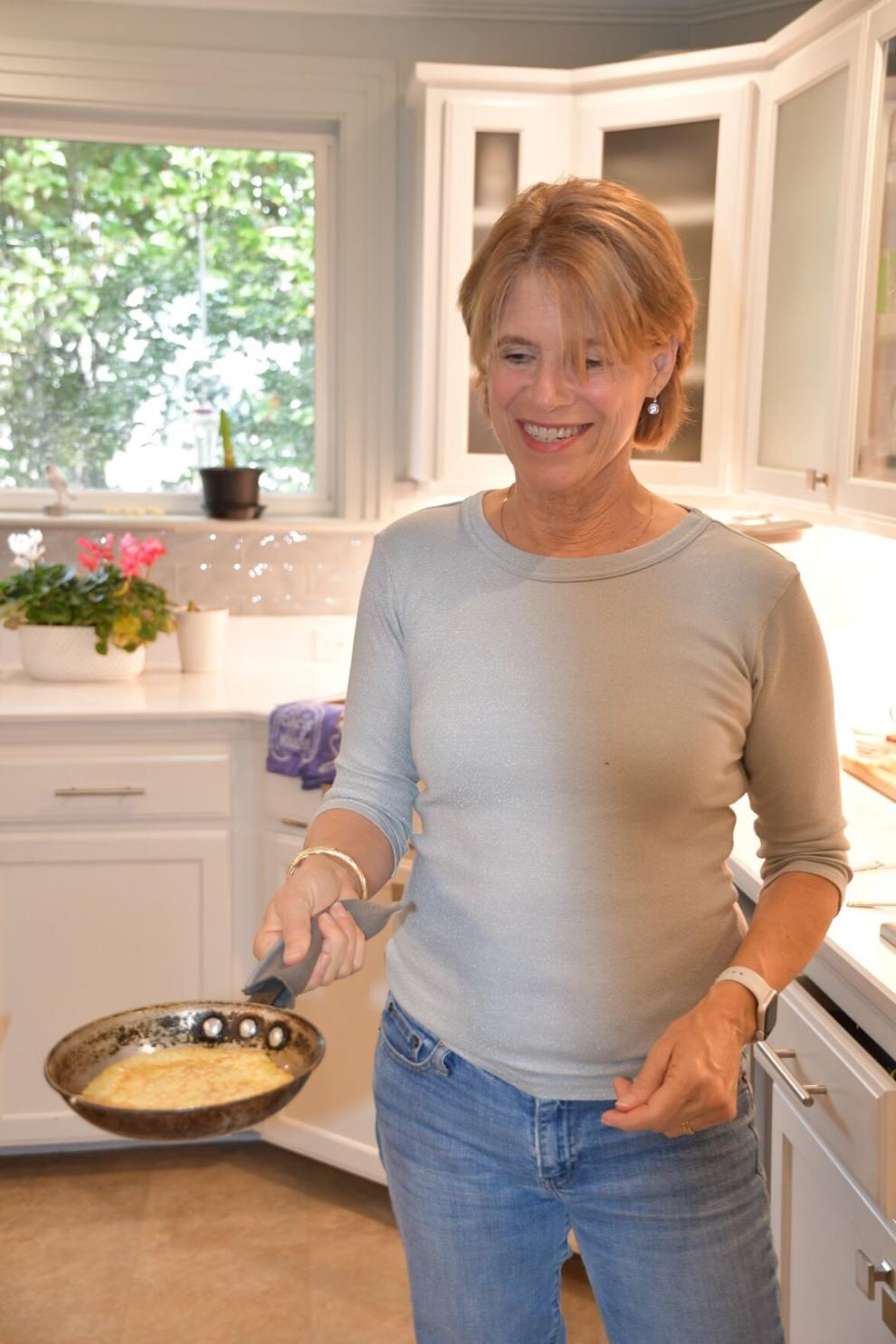 A native of Oberlin Township in Allen Parish, Lyle has lived in Lafayette most of her life and is recognized as the longtime executive director of Performing Arts Serving Acadiana, known as "PASA." She has shared her family tradition and expertise in pancake making with her staff and interns at PASA.
The pans were placed on the gas stove while the dough lay next to it. Lyle pans are smaller than the modern crepe pan and are made of aluminum. The weathered pans are reminiscent of an earlier time and tell the story of a family gathering to celebrate a tradition brought over from France.
In Lyle's kitchen, her pancake recipe is in a cookbook compiled by her aunt Phyllis Richard. The page shows wear from years of opening the cookbook near the batter. Lyle says the cookbook was given to family members at Christmas and was a source of comfort and joy. Her aunt's first cookbooks were handmade and covered in cloth, as her aunt was a seamstress, and later an updated version appeared.
Lyle clicked, the stove burner clicked and went to work, making the process look easy. As the aroma of brown butter wafted through the kitchen, she filled me in on the process in more detail.
Mixing pancakes can be a chore. So that there would be no lumpy dough, they began to mix the flour, salt and eggs in a blender, creating a smooth mixture.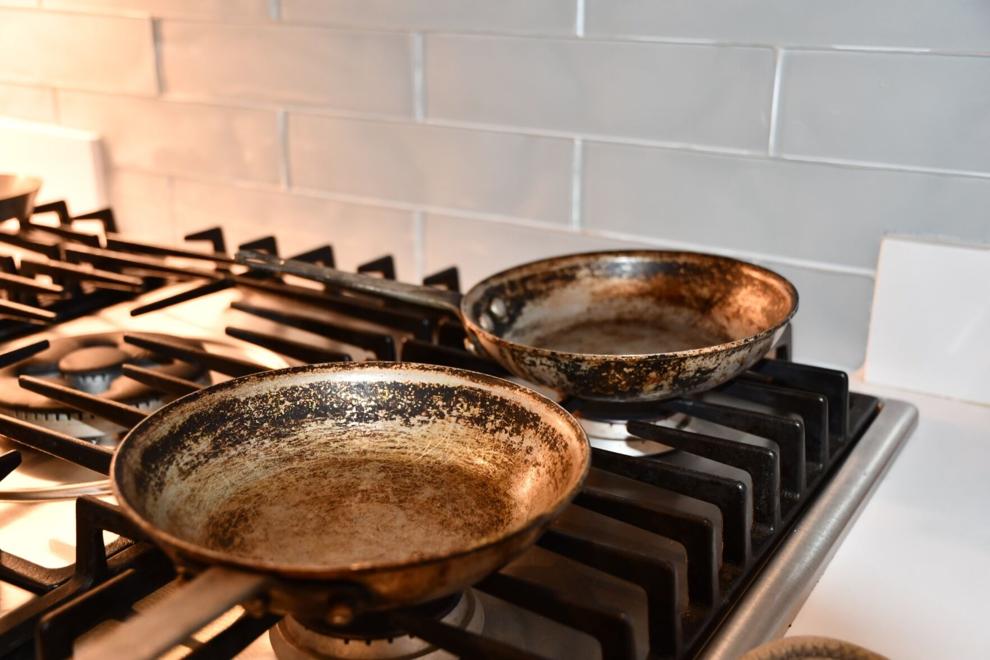 "Once they're mixed, refrigerate for a few hours to let the gluten develop, making a thick dough," Lyle said.
Lyle has pancake flipping down to a science.
When she hears the pan sizzle and the edges start to curl, it's time. Before flipping the pancake, she gave the pan a little shake to make sure the pancake didn't stick.
Then he flipped it over with the pan in hand. The crepe landed gracefully. Somehow, she managed several pans at the same time – and not a single crepe was burnt, lost due to falling to the floor or broken.
I asked if she ever flips pancakes with a spatula.
"What's the point if you can do it this way?" she said.
I laughed and immediately wanted to try it.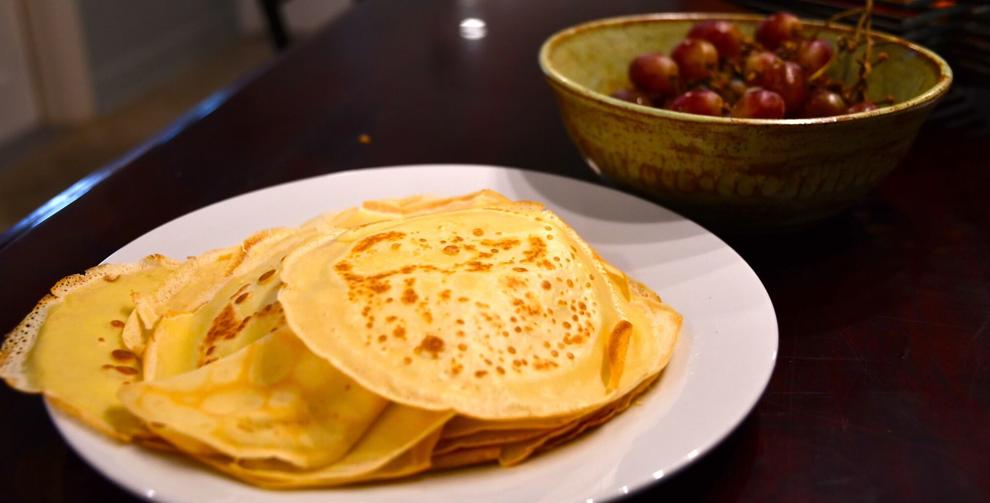 After lifting the pan and making sure the crepe was loose on the first try, I was surprised that it turned as it should. Beginner's luck!
The second time didn't go well. It took a few tries and I finally had to accept failure to turn. Still, I was grateful for her expertise and patience during my trials.
For many years, only granulated sugar was used inside the pancake before it was rolled up to enjoy. Nowadays, there are more modern options for fillings, such as the much-loved Nutella. As much as Lyle loves Nutella, she said, "The sprinkled sugar in the pancakes is my favorite because it reminds me of my grandma."
Lyle's children continue the family tradition of celebrating Groundhog Day by making homemade pancakes with their growing families.
February 2 isn't just another dreary winter day for Lyle and her family — and she's encouraging others to join in on the fun.
pancakes
Makes 40 pancakes. The recipe is by Jackie Richard.
2 cups all-purpose flour
½ teaspoon of salt
4 large eggs
1 cup cold milk
4 tablespoons butter, melted
1 cup of cold water
Oil or salad oil (used to grease the pan)
1. Combine the flour, salt and eggs; mix well.
2. Mix with milk, water and butter. Mix well.
3. Refrigerate the dough for at least two hours, allowing the flour particles to swell and soften so that the pancakes have a light texture.
4. Lightly coat bottom of 6-inch or 7-inch crepe pan with salad oil or butter; heat a skillet over medium heat until hot but not smoking.
5. Pour a little ¼ cup batter and quickly tilt the pan in all directions, push the batter all over the bottom of the pan.
6. Let it cook for about 1 minute and turn the crepe to the other side. Cook until the sides are brown in spots.
Crepes can be frozen between wax paper. Remove, thaw and use for desserts.
If you're going to eat the pancakes like Lyle's Grandma Richard, roll them up on Groundhog Day and use butter instead of oil. Lyle also recommends mixing the dough in a blender.