Polar Ignite 3: One minute review
The Polar Ignite 3 follows on from the hugely impressive Polar Ignite 2 that arrived in 2021. A few years is a long time in the rapidly evolving world of smartwatch technology, so Polar has revised the already excellent and undeniably attractive Ignite design to reflect so much.
The good news is that it still offers the same attractive value, fitting nicely into the mid-range price bracket, making it an affordable option for those looking for one of the best movement watches on a budget.
The bright AMOLED display is definitely a highlight, but there are also new features, including multi-band GPS (which puts it on par with other mid-range Garmins) and powerful stats tools like SleepWise, which proves impressive at monitoring your levels of shut-eye. The sleek and very light design means it sits easily on the wrist, even while sleeping.
Unfortunately, the Polar Ignite 3 is also plagued by less-than-impressive battery life and a touchscreen interface that often feels slow, bordering on buggy. If you can live with its disappointing edge, it can offer pretty good value for money, but there are better options at this price point.
Polar Ignite 3: Specifications
Swipe to scroll horizontally
Polar Ignite 3 Specifications:

| Component | Polar Ignite 3 |
| --- | --- |
| Price | $329 / £289 / AU$429 |
| Dimensions | 43 x 43 x 9.5 mm |
| Weight | 37 gr |
| Case/bezel | Plastic/stainless steel |
| Display | 416 x 416 px AMOLED Gorilla Glass |
| GPS? | GPS, GLONASS, GALILEO, QZSS, BEIDOU |
| Battery life | 120 hours (30 hours GPS) |
| Connection | Bluetooth |
| Waterproof? | Yes, 30m |
Polar Ignite 3: Price and Availability
$329.95 in the US
£289 in the UK
$428.67 in Australia
The Polar Ignite 3 is available now, directly from Polar itself or through many of the popular online stores, including Amazon. It has a current RRP of $329.95 in the US, £289 in the UK and $428.67 in Australia.
Polar Ignite 3: Design
Bright, bold AMOLED screen
Slim form factor
Great color choice
The Polar Ignite 3 looks very tempting on the box, but it's only when you take the watch out of the packaging that you realize just how good this slim creation looks. It's only 9.5mm thick, weighs just 35g, yet has a spacious touchscreen to enjoy.
The 1.28 inch display is perhaps the highlight of this model which once switched on is lovely to look at with crisp, clear and very vibrant colors to enjoy. The edge of the frame has a neat set of vertical grooves around its edge, although this looks and feels like it could be susceptible to marks and scratches over time.
It can be found in a range of color options including Night Black, Purple Dusk, Greige Sand and Brown Copper, so there's a look to suit almost any taste. Our review example was the Brown Copper model, which came with a replacement strap in the box for when wear gets the better of the original.
Also in the box is a selection of micro manuals for almost every language plus a USB charging cable that connects to the watch via a magnetic clip on the back.
Meanwhile, the design of the Polar Flow companion app is very respectable, with plenty of detailed metrics to dig into. It has comprehensive historical graphs of all your key data points with no additional subscription fees. It's not as intuitive as it could be: it eschews nice well-rounded sleep and standby scores in favor of complex graphics and deep data dives, so it's more for regular runners and data geeks than a way to life and activity.
However, once you understand where everything lives, it's pretty comprehensive in terms of data.
Polar Ignite 3: Features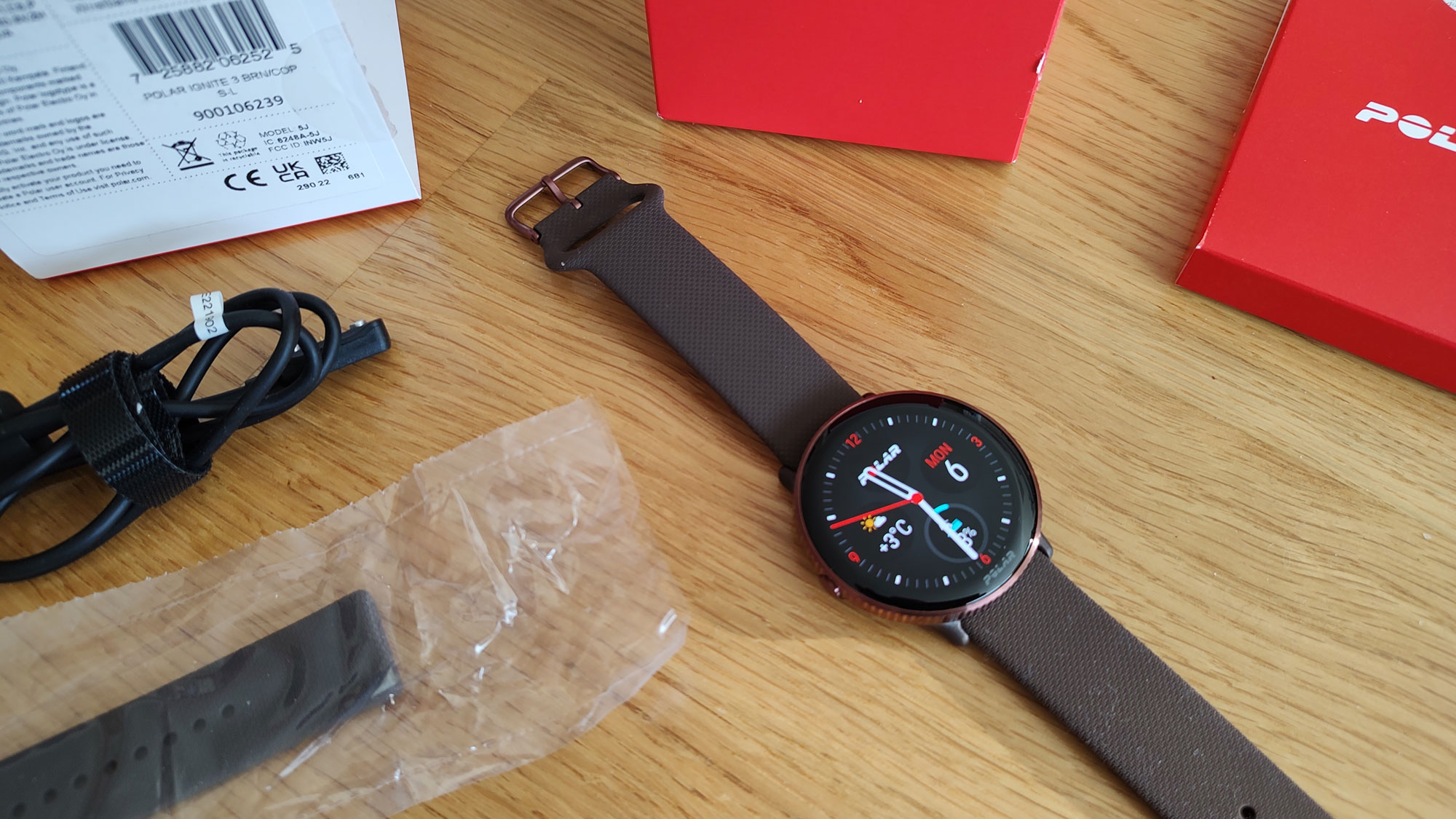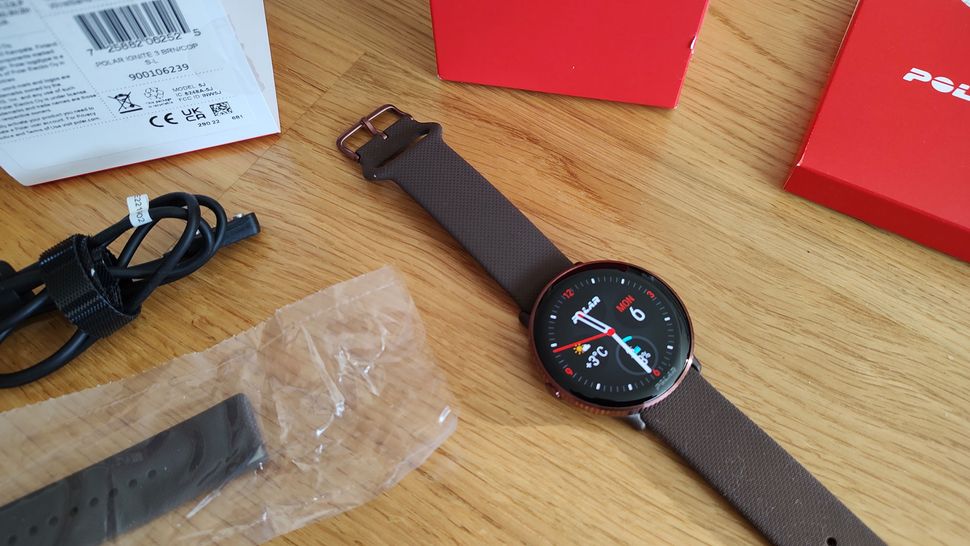 SleepWise closely monitors the closed eye
Customizable widgets work well
The Polar Flow app is well designed
While it's undoubtedly a good-looking thing, the Polar Ignite is a little less impressive on the typical smartwatch specs front. At first glance, it has most of what you need, with email and message notification services, alarms, timers, and the ability to control your music all housed in the interface. Dig a little deeper, though, and there are gaps. There's no way to make contactless payments, which is increasingly appealing to people at places like the gym or out for a run who don't want to carry anything else with them.
Likewise, there's no way to answer calls, and you can't send a text from the watch, only receive one. In fact, if you want to get real mileage out of the Polar Ignite 3, you'll most likely take your phone with you because you'll need it to access your music collection due to the limited storage space on the watch itself.
The GPS system can track your route on a localized run, but again the features feel a bit unimpressive. It's a shame the watch is so attached to your phone, especially when the UX promises so much on your first look.
SleepWise analyzes your sleep patterns well enough, as does Nightly Recharge, which takes into account how your body deals with stress. Polar's FitSpark service offers on-demand exercise suggestions if you need them, which also intelligently take into account your training load and recovery needs. For example, the day after a hard run, it will recommend a less strenuous exercise than it might on a day when you are fully recovered and have a better nighttime recharging score. Voice guidance during exercise from the watch is another great addition.
Getting to the features and functions is where the disappointment creeps in, though: we found basic tasks like starting a cross-trainer session to be erratic and not that easy to use. Exercisers want quick and easy access to simple Stop/Start controls, which just doesn't seem to happen with the Polar Ignite 3. There's too much fumbling around the watch face itself, not enough immediacy. Nobody wants to waste time in the gym.
Polar Ignite 3: Performance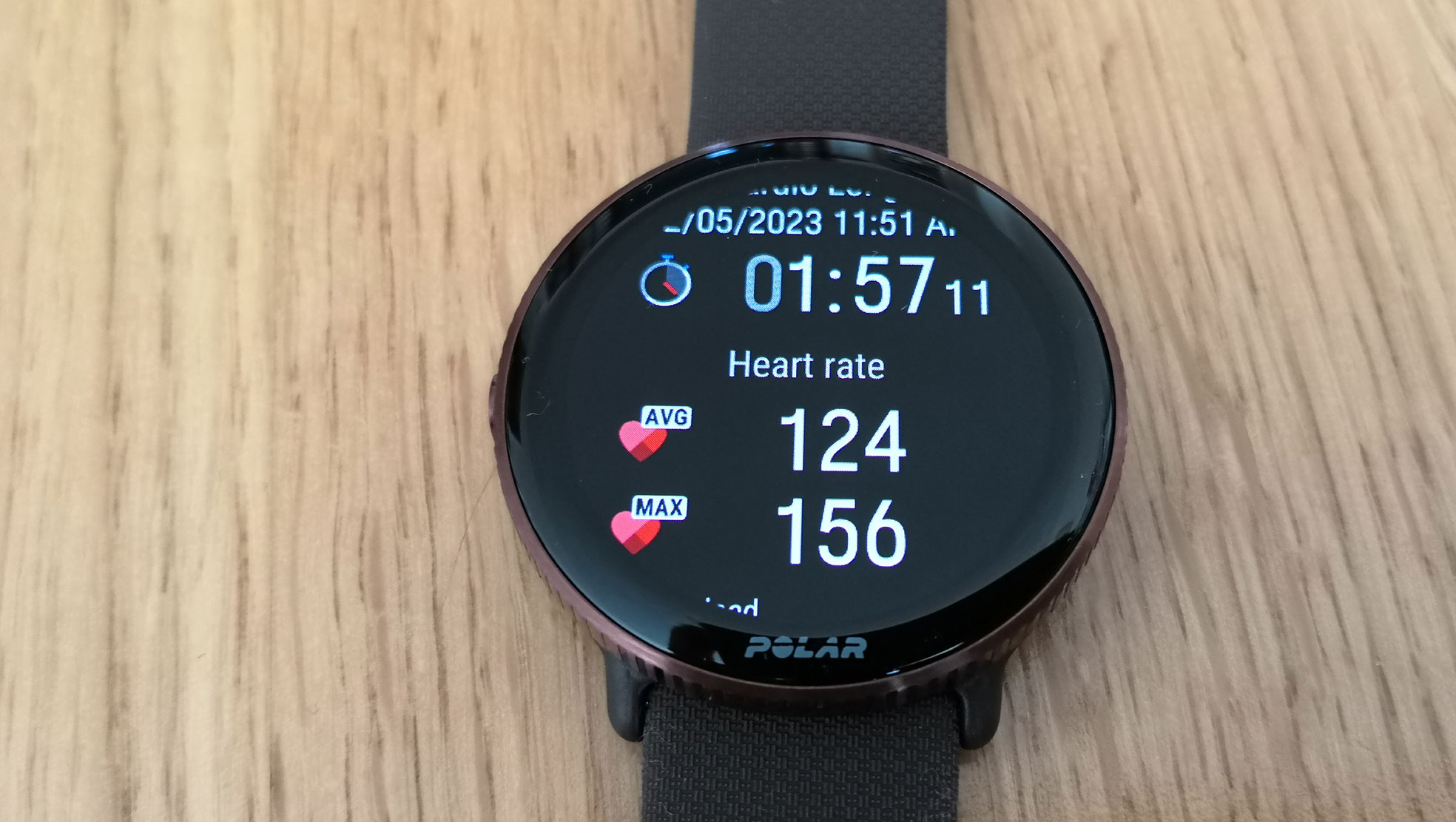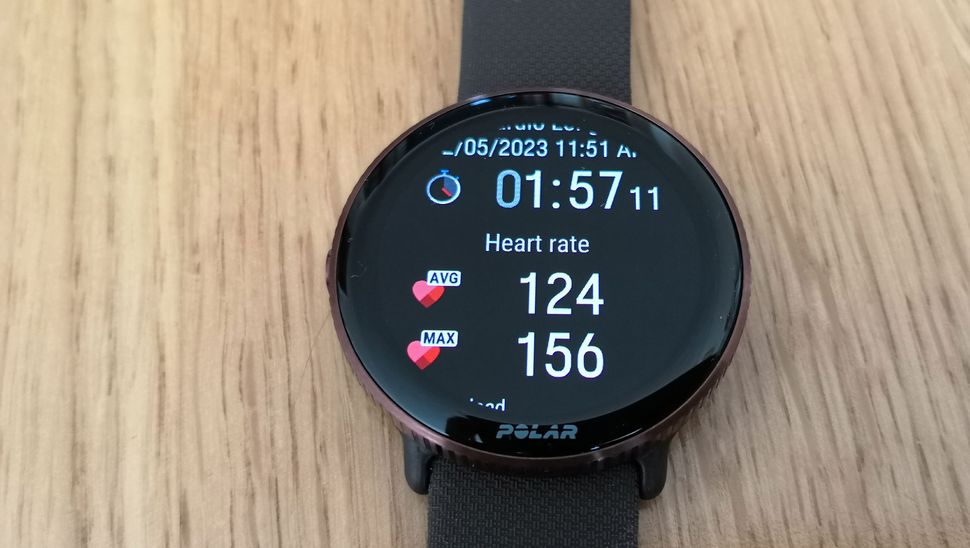 Dual frequency GPS is solid
The latest processor is a step forward
The power source breakdown is clean
While everything initially looks good in both the looks department and the feature list, once you start using the Polar Ignite 3, some holes start to appear. After installing the supporting Polar app, the setup process was fine – but not as seamless as some of its peers. Subsequently, the Polar Ignite 3 doesn't seem to be all that enthusiastic when syncing, often taking a few tries to get the process going.
More annoying, however, is the not-so-simple way this watch works in everyday use. It often seems unresponsive, promoting confusion as to whether it is doing something or not. This means repeatedly interacting with the screen or pressing the back button on the left side of the panel.
This itself feels quite stiff and unresponsive. It's understandable to have a button that can't be accidentally pressed, thus avoiding canceling workouts and the like, but it's too unforgiving for its own good.
Battery life isn't great either. Polar suggests you'll get up to five days in watch mode or up to 30 hours of continuous training using the GPS and heart rate features. That may be true, but we found the watch's battery to drain quite quickly with average daily use, making you feel like you need to charge it more often than the official figures suggest.
Overall, performance and usability shortcomings are perhaps the Polar Ignite 3's biggest weakness, which is a shame considering how good it looks.
Polar Ignite 3: Buy it if you…
Polar Ignite 3: Don't buy it if…
Also think
Swipe to scroll horizontally
Also think

| Component | Polar Ignite 3 | Polar Vantage V2 | Garmin Instinct 2 (45mm) |
| --- | --- | --- | --- |
| Price | $329 / £289 / AU$429 | $549.95 / £489 / AU$799. | $349.99 / £249.99 / AU$559 |
| Dimensions | 43 x 43 x 9.5 mm | 47 x 47 x 13 mm | 45 x 45 x 14.50 mm |
| Weight | 37 gr | 52 gr | 52 gr |
| Case/bezel | Plastic/stainless steel | Space aluminum | Fiber reinforced polymer |
| Display | 416 x 416 px AMOLED Gorilla Glass | 240 × 240 px MIP Gorilla Glass | 176 x 176 px MIP, chemically strengthened glass |
| GPS? | GPS, GLONASS, GALILEO, QZSS, BEIDOU | GPS, GLONASS, GALILEO, QZSS | GPS, GLONASS, GALILEO |
| Battery life | 120 hours (30 hours GPS) | 168 hours (40 hours GPS) | 28 days (30 hours GPS) |
| Connection | Bluetooth | Bluetooth | Bluetooth, ANT+ |
| Waterproof? | Yes, 30m | Yes, 100m | Row 8 – Cell 3 |
First review: April 2023