NORTH PARK — A new store on the Northwest Side is letting kids and adults unleash their inner speed demons.
Run Rabbit Run, 3255 W. Bryn Mawr Ave., is a hobby shop by owner Stefan Zajczenko. He sells a variety of car-related toys, but his main focus is modern slot cars imported from England that cost $50-$80.
"A lot of people remember them from when they were kids, or the toys that dad put in the basement with all the wires and stuff," Zaichenko said. "But now the controllers are wireless and most of the slot cars we sell are from England, where the hobby is more popular."
A former Army helicopter mechanic, Zajczenko always liked working with his hands, he said. He built the two tables and racing tracks from scratch for his shop.
"My family, my siblings, have always been artistic, and I think it's important to be able to express yourself," he said.
One of the store's tables is a verdant green country scene with a racetrack route circling the mountain overlooking figures tilling fields to recreate the feeling of speeding down a country road, Zajczenko said.
The other track is a flat desert track where slot cars run on a dirt road. An assortment of cacti is the only thing that breaks up the barren landscape.
"I'm going to add some other little things to them, more lights and fun things to them and change them," Zaichenko said. "I think in the woods I'm going to do something like an alien invasion, and in the desert I want to do some crazy things with it, but I'm not sure what yet."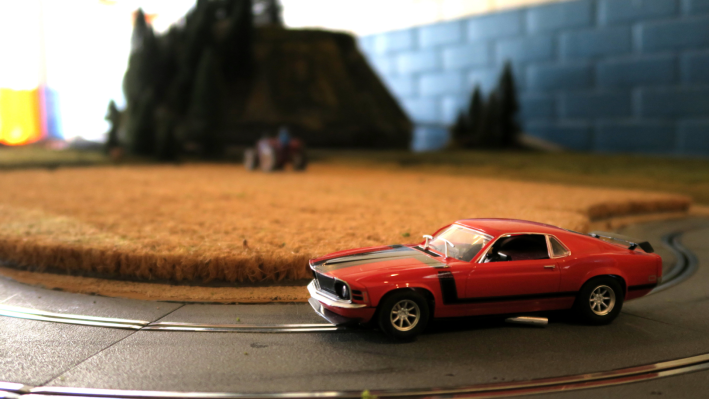 A 30-minute session on one of the courses costs $10 and allows customers to experience the digital slot cars Zajczenko sells in action. They are much more advanced than what many people played with growing up, he said.
"The problem with the race track that my wife got me on – my daughter and I put it in the living room, but then you have to put it away, which can be annoying," he said. "A lot of people I talk to have theirs in a basement or garage, but there are apartment buildings in this neighborhood where you don't have that space."
The cars are controlled wirelessly, can apply the brakes and have the ability to change lanes at certain points on the course to pass, Zaichenko said.
The toys also have the option of installing a computer chip that allows racers to create a number of challenges to emulate the NASCAR and/or Formula 1 experience, Zaichenko said.
These include programming how long the cars will experience the track, how much fuel they can use and how much tire wear they can withstand before a pit stop is required, Zaichenko said.
"You can also reduce the speed with the program, how much power a person has. So if you have small kids, you can reduce the power to about 25 percent so the cars don't fly off the track," he said.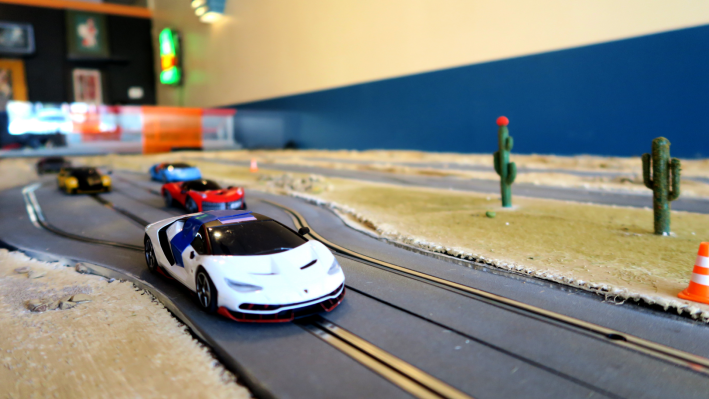 Zajczenko has only been open for a few weeks. Once he settled into a routine, he considered hosting slot car races at the store.
"It's fun because you'll learn that going all out on the course isn't the best thing. You have to like to feel it when you accelerate and take the corner slowly," Zajczenko said.
Run Rabbit Run is open 3.30pm to 9pm Wednesday-Thursday, 3.30pm to 10pm Friday, 1pm to 10pm Saturday and 1pm to 9pm Sunday.
Listen to "It's All Right: A Block Club Chicago Podcast":