Spencer Platt/Getty Images
Teresa Calderez has never seen her nails look better.
"They were really split and cracked and dry," she said, spreading her fingers. "And I noticed that after eating fresh vegetables and meats, they looked a lot better. They are not pretty, but they are healthier. And I think your nails say a lot about your health."
Calderez is 63 and lives in Colorado Springs. Disabled and unable to work for years, she received just over $20 a month in food stamps from the Supplemental Nutrition Assistance Program, known as SNAP. This would be used up very quickly. But as one of the millions of Americans who received extra federal aid during the pandemic, her balance jumped to $280 a month. She said she was finally able to eat when she felt hungry.
"You know, I feel better. I have a little more energy," she said.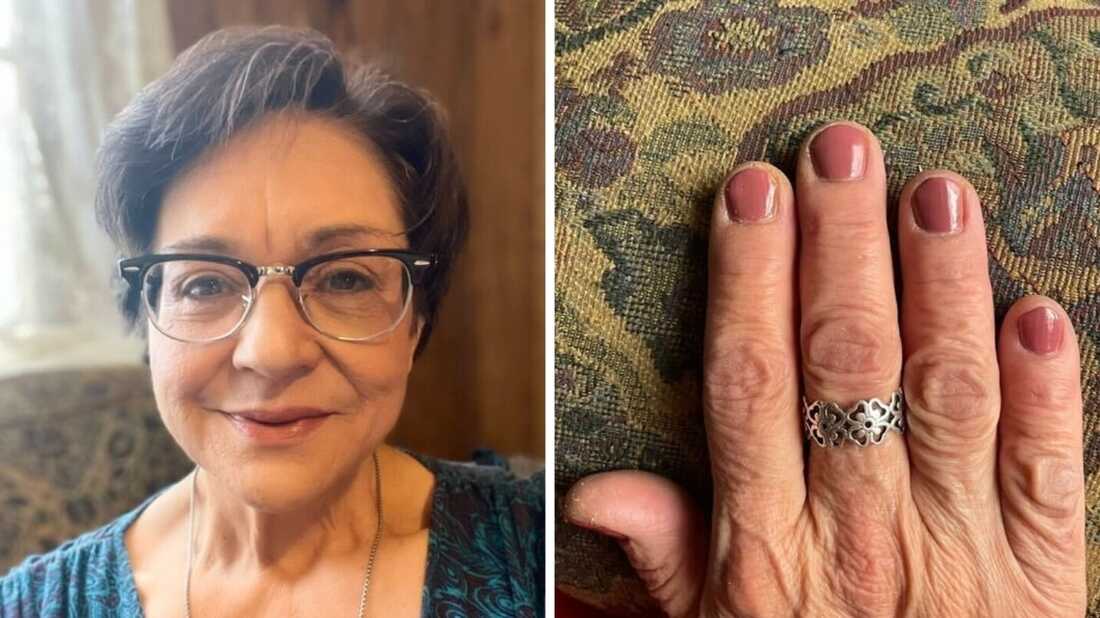 But that extra money is gone now as the government scales back its pandemic relief programs. The increased benefits expired this month, and payments fell by about $90 a month on average for individuals and $250 or more for some families, according to an analysis by the Center on Budget and Policy Priorities, a nonpartisan think tank.
Calderez is now back to the minimum monthly payment: just $23 per month.
The cut comes as U.S. food prices continue to rise. Without the extra help, many people will go hungry.
"I don't think people understand how big of an impact this relief has had," said Reyna, who asked that her full name not be used for personal safety. "Finally I was able to feed my child without stress, worry or tears."
Reyna lives in rural Southern Oregon. She said that before the extra benefits, she also received just over $20 a month to support herself and her son.
"He was underweight at the start of the pandemic," she said.
When SNAP payments went up, she was more than happy to get an extra $500 to spend on food.
"During the pandemic, I was able to supplement his diet with protein drinks that cost $30, introduce new foods, let him choose and explore. And now he's at his goal weight. Even his doctors noticed."
The comfort zone
Faced once again with hunger and malnutrition, people like Reyna don't have many options.
"There's only one food bank here," she said. "It was already overcrowded even when pandemic benefits were available. I can't even imagine what it's going to be like now."
Food banks aren't a great option for Lisa Klenot either.
"I would say 90 percent of it we can't eat," she said.
Maple lives in Haverhill, Mass., and said she and her two children have many allergies. They are particularly sensitive to high fructose corn syrup.
"And it's in everything," she said.
Maple said the extra SNAP benefits have been a huge help to her family, and she's been able to buy healthy, filling food that works for their food sensitivities. But even without the stress of the grocery store, there was plenty of it elsewhere in her life.
"I have to pay the mortgage," she said. "I still co-own the house with my ex-husband, who doesn't help me at all. Also, my car is 20 years old and I have to pay for repairs."
She said she has been in debt to cover bills for some time. And losing SNAP benefits won't help her there.
"I really don't know what we're going to do," she said. "I was trying to get through to the Transitional Assistance Department, but I was put on hold for an hour and a half. And their website is… well, it is what it is.'
"We've seen this before"
Megan Sandel is a pediatrician and co-director of Boston Medical Center's Grow Clinic, which focuses on treating malnutrition in children. She sees many heartbroken parents in her office.
"They sometimes work in two places," she said. "They have this, you know, little kid who's not growing the way you would expect on the growth curve. And the mother will cry and say, "I just got my rent bill; the landlord increases it; I can't continue. And now I know there will be one less tool in the toolbox to try to help this child grow and get back on the growth curve.
Which goes hand in hand with the learning curve.
"During the first three years of life, you are in the most rapid period of growth in terms of brain and body. So when you miss a key meal, it's hard to catch up. There can literally be situations where we get kids late and they start struggling in school or not reading on time."
And for hints of long-term effects, look no further than the Great Recession. After Congress passed the American Recovery and Reinvestment Act in 2009, SNAP benefits increased for all recipients by at least 13.6 percent, according to Children's HealthWatch. The increase was supposed to be temporary, but experts studying the benefits say it ended too soon to have the intended impact. A policy brief from Children's HealthWatch found:
Under ARRA, SNAP benefit levels were not intended to be adjusted again until food price inflation caught up with the increase, which is expected to occur in late 2014.

On November 1, 2013, monthly SNAP benefits for all program participants were reduced. The total national reduction was approximately $5 billion – reducing the amount of SNAP distributed per person from approximately $1.70 per meal to approximately $1.40 per meal. For a family of four, the monthly allowance drops by about $36, which equates to about 21 meals a month. The effect of the reduction was not offset by funding for other programs because a) young children do not benefit from school meals because they are not in school and b) school-age children need to eat nutritious meals outside of school hours as well as at school . Ultimately, by cutting SNAP to fund these programs, young children were put at greater risk of food insecurity.
"We saw that children stopped growing when they were in relatively poor health and their caregivers were in relatively poor health," Sandel said. "So it's really a family issue. Consider what SNAP is. It is the largest anti-hunger program in the United States. It's an evidence-based tool to ensure families put food on the table."
Back to hunger
Pandemic-era aid programs have worked—not just to support communities affected by COVID-19, but as examples of how longstanding problems like food insecurity and unstable incomes can be addressed more broadly.
But that safety net is fading fast. Gone are top-up unemployment payments, free school lunches for all and extended child tax credit. According to the Department of Agriculture, SNAP was worth $119 billion last year with fringe benefits. That would equate to about 2 percent of the national budget for fiscal year 2023.
Reyna, in Southern Oregon, thinks the stigma surrounding government assistance stops many people — including those in charge — from being realistic about it.
"People are really closer to needing SNAP than they realize half the time," she said. "No one should ever have to face food insecurity."
But it will be inevitable for many Americans now, including her and Teresa Calderez in Colorado Springs. Calderez said her rent has gone up and is already straining her budget, even with SNAP benefits. Now she has to give up the healthy diet she was used to.
"You know, buying a gallon of milk — a lot of people don't really give it a second thought," she said. "But there are a lot of us here who can't buy a gallon of milk when we need it. I'll just have to go back to not eating much, about one meal a day."
"Unfortunately, I know hunger. And it's not a good feeling."