Last week, Stanford Law School students disrupted a Federalist Society event featuring US District Court Judge Kyle Duncan. Duncan was prevented from speaking by unruly protesters and heckled by the school's associate dean for diversity, equity and inclusion.
Now some of the protest leaders, many of whom have shared the names and photos of the Federalist Society members online and on posters, are upset that the Washington Free Beacon published their names.
"NEW: The same students who plastered the names and faces of the Stanford Federalist Society all over the school are now requesting anonymity from the Free Beacon. They say we violated their right to privacy by identifying them. You can't make it up," Aaron Cibarium, a journalist for the Washington Free Beacon, tweeted Friday.
NEW AUDIO CALLS FEDERAL JUDGE STANFORD STUDENTS' WILD TIME ATTENTION: 'YOU DON'T RESPECT US!'
"On Sunday, I identified board members of the Stanford National Lawyers Guild — one of the groups responsible for the posters — who in a public statement described the protest as 'Stanford Law School at its best.' A few hours later, the board asked me to redact their names," Sibarium reported.
Sibarium said Lily Bowe, a board member of the Stanford National Lawyers Guild, sent an email requesting that the Free Beacon remove her name and those of other students from its reports. "Listing our names serves no other purpose than to invite abuse and harassment," she wrote.
"I wonder what the purpose of the posters on the fedsoc board is," Sibarium wrote.
"You do not have our permission to reference or quote any part of this email in a future publication," she added.
"Needless to say, that's not how the First Amendment works," commented Sibarium.
NEW VIDEO SHOWS STANFORD PROTESTERS BLOCKING FEDERAL JUDGE WHILE DEI DIEN APPEARS TO SMILE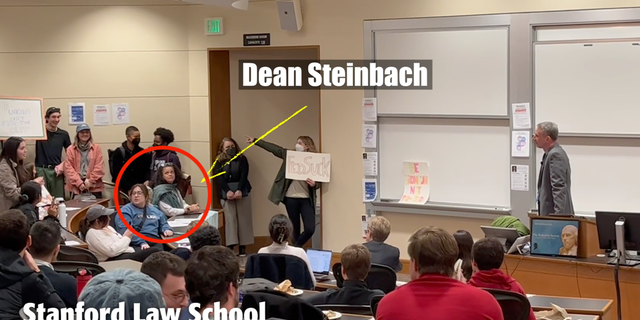 He continued: "We received similar complaints about the posting of images — culled from social media — of Stanford Law School Dean Jenny Martinez's classroom, which protesters covered end-to-end with flyers after she apologized to Judge Duncan."
"We received a note from Mary Kate Hickman asking us to 'anonymize the face of the red hooded student' because 'California is a two-party consent state and you are not permitted to publish the identity/likeness/face of this student without consent,'" he tweeted he.
The reporter noted that bilateral consent only applies to secret audio recordings and that there is no expectation of privacy during a public protest at a law school event where participants freely post video and images. He also pointed out that the protest was covered on national television and in publications, further undermining any expectation of privacy.
The Free Beacon wrote an editorial about the ongoing effects of the protests, concluding:
"What is abundantly clear from the drama unfolding in Palo Alto is that while Stanford law students may be the vanguard of an anti-constitutional revolution, they don't know much about the law. Stanford failed to educate them within the bounds of privacy. and the rights of a free press, we will endeavor to fill the void with our continued coverage of this ugly affair."
CLICK HERE TO GET THE FOX NEWS APP
Free speech is under attack on college campuses across America. At UC Davis on Tuesday, a speech by conservative commentator Charlie Kirk was interrupted by protesters who smashed windows and clashed with police.
According to one survey, less than half of Republican students feel safe expressing their political views on campus. Many students fear retribution in personal and professional settings for sharing their conservative beliefs.