Between techno and dance-pop sounds, bass drops and sets from DJ headliners like David Guetta, Marshmello and Alesso, dozens of FIU students got a hands-on lesson and work experience at the largest outdoor electronic music festival, Ultra Music Festival at Bayfront Park in Miami.
About 150,000 people from more than 100 countries converged on the park over three days last weekend, and FIU students were stationed throughout the venue to fill key roles including registration and ticketing, accreditation and VIP access, crowd management and food rescue and sustainability efforts within the event is designated Eco Village.
For Miranda Girimoldi, who is about to complete a master's degree in hospitality management with a concentration in mega and large-scale events, the experience was a unique opportunity to learn in real time from industry professionals. She led a team of 20 students who are part of the school's Back of House events club. The club is made up of students who are interested in or want to work in the events industry.
"The fact that we can learn how to deal with staff, work with arriving guests and, at the event, about stage performance, safety and security from our professor, it's amazing," said Girimoldi, who will enter the workforce with experience when he finished in Moge.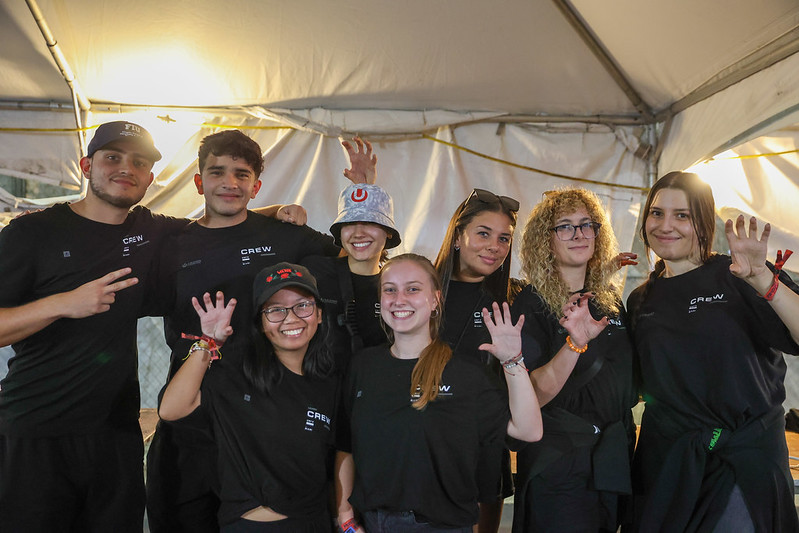 FIU Back of House Club students, including Miranda Girimoldi (3rd from right), play a key role in managing operations.
BOOTS ON THE GROUND
With seven sound stages, an eco-village dedicated to sustainable practices and hundreds of food vendors, Ultra gives event management students an incredible real-time look at every aspect of how a mega event is run. Mega events are considered events of 10,000 people or more.
"As valuable as the lessons learned in the classroom and while studying are, real-life experiences are able to bring it all together. The knowledge learned from being 'boots on the ground' during an event is critical to the overall learning process," said Ray Martinez, assistant professor at the FIU Chaplin School of Hospitality & Tourism Management and former police chief in Miami Beach, who ran Ultra's security operations.
Martinez coordinated with the city of Miami and hundreds of police officers and fire rescue crews on the scene to ensure safety.
Many of the students working with Ultra were part of the 1,500 FIU students who led the South Beach Wine & Food Festival®, the Chaplin School's signature event held every February on the sands of Miami Beach and at venues throughout Miami County- Dade. The added bonus for young people is networking.
"You get to meet great producers, event organizers and big names who help you make connections, and you also learn from them. You can ask them as many questions as you want. I'm actually building connections," said Aruzhan Toleubai, a master's degree student in mega event management who has worked on the Super Bowl in addition to Ultra and the South Beach Wine & Food Festival®.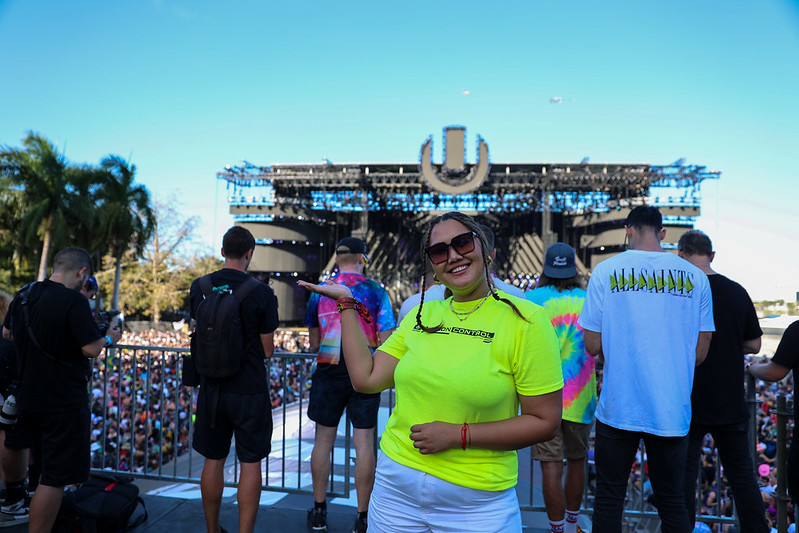 Aruzhan Toleubay on the VIP stage working in Mission Control, representatives of the Ultra community
CUSTOMER EXPERIENCE AND SUSTAINABILITY
For Gabriela Cortez Garriga, a master's degree student in the mega events track who also expects to graduate in May, it's all about interacting with festival goers. "It's really different because you actually have to talk to the customers. Working at Ultra was amazing. I met a lot of people who are in the industry and learned how to deal with the public and VIPs," she said.
This year's student-led effort also included a Green Waste Minimization Team, an initiative also implemented by FIU students in SOBEWFF® that resulted in more than 40 tons of waste being kept out of landfills. Online hospitality student Alexandra Herrera is passionate about the planet, so she took on the role of Ultra's sustainability intern and leads a number of educational initiatives, including the Leave No Trace and Compost for Life programs.
"I think it's very satisfying and fulfilling to be somebody at the beginning of something that's going to change the world. And I think it's great to represent FIU, it's great to represent my hometown and, I mean, just to see this program grow from the ground up," Herrera said.
This year's volunteer program was named after the late Dan Cormany, the Chaplin School's lead professor of mega and large-scale events, who died in November.
"I think having a new program under Professor Cormani's name is a great way to honor him," Girimoldi said. "He gave his life for us students in the hospitality industry, in the events industry, and because of him and the opportunities that FIU gives us, we have a lot of students working in this program."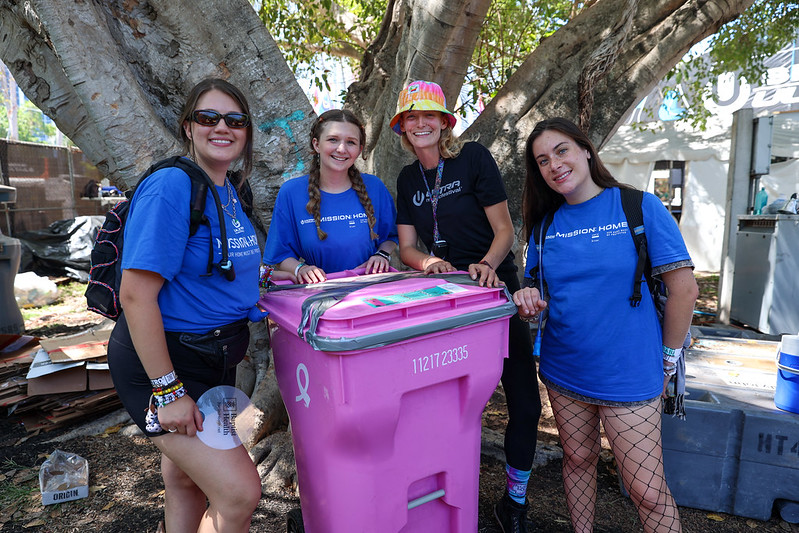 FIU students worked alongside Emily Milton (2nd from right), Ultra Music Festival Sustainability Program Manager, on waste diversion efforts.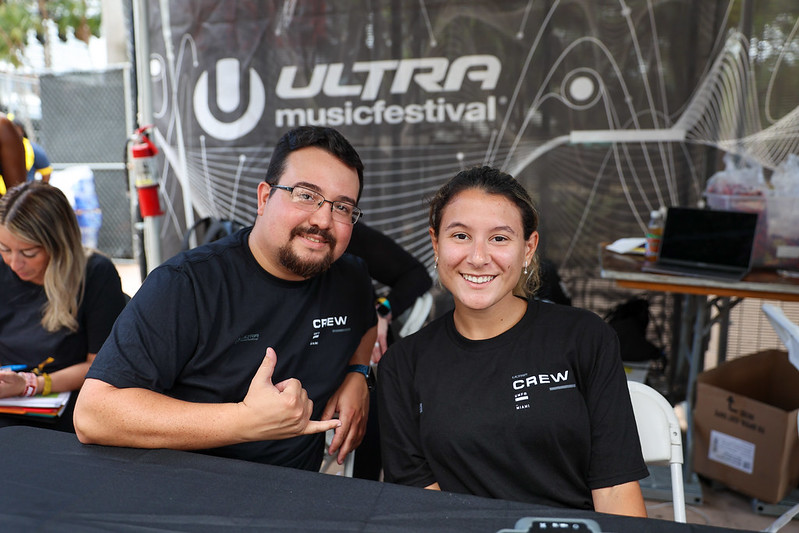 Gabriela Cortes Garriga (right) learns how to handle clients and VIPs.